Boat Blouse - Dansk
Regular price
Sale price
$8.00 USD
Unit price
per
Sale
Sold out
Share
Konstruktion:
Sweateren strikkes oppefra ned. Først slås masker op til den ene skulder, som formes ved at strikke frem og tilbage, mens der laves udtagninger til halsåbningen. Den anden skulder strikkes på samme vis, hvorefter de to skulder-stykker samles med løkkeopslag, hvorved bærestykket skabes. Bærestykket strikkes rundt på pinden i glatstrik, mens der laves yderligere udtagninger.
Maskerne deles til et for- og bagstykke, der strikkes hver for sig. De samles igen under ærmet og kroppen strikkes rundt i glatstrik. Der afsluttes med en i-cord kant. Herefter samles masker op langs halskanten, der ligeledes strikkes som en i-cord kant. Der samles så masker op til ærmerne, der startes med vendepinde. Herefter strikkes i glatstrik med, enten ud- eller indtagninger undervejs, afhængigt af om der ønskes ballonærmer eller lige ærmer. Ærmerne afsluttes ligeledes med i-cord kant.
Størrelser:
Sweateren kan strikkes i 7 forskellige størrelser, XS (S) M (L) XL (2XL) 3XL, der har en overvidde på henholdsvist 95 (98) 102 (109) 116 (126) 136 cm. Inden du vælger hvilken størrelse du skal strikke, anbefaler vi, at du måler dig over brystet, eller bredeste sted og ud fra denne bredde vælge den størrelse, der passer bedst til det ønskede fit. Ønskes et almindeligt fit anbefaler vi et positive ease på omkring 5-10 cm.
Eksempel: måler du 90 cm om brystet, anbefaler vi at strikke en størrelse S, hvis du ønsker et tættere fit, med et positive ease er 8 cm eller str. M, der giver et positive ease på 12 cm, hvis du ønsker et mere oversized fit.  
Strikkefasthed:                 
18 masker x 26 pinde = 10 x 10 cm glatstrik.
Vejledende pinde:            
4,5 mm rundpind med 40 og 80 cm cm wire.
Garnforslag:                      
2 tråde: Mayflower Super Kid Silk (25 g = 195 m)
eller Garna Cava (25 g = 250 m)
eller Lana Gatto Silk Mohair (25 g = 212 m)
eller 1 tråd: Garnpusher Mohair edition 4eren.
Garnmængde:                   
150 (175) 200 (225) 250 (250) 275 g silk mohair når der strikkes dobbelttråd.
150-200 (200) 250 (250) 250 (250-300) 300 g Garnpusher Mohair Edition 4eren
Andre materialer:             
Strikkenål, restegarn/maskeholder, maskemarkører.
Vores bluser er strikket i:
Den hvide: 2 tråde Mayflower Super Kid Silk i fv. 06 Råhvid.
Den lyseblå: 2 tråde Lana Gatto Silk Mohair i fv. 7264 Dove
Den hvid/brun stribede: 2 tråde Drops Kid-silk i fv. 01 natur og 35 chokolade
Den håndfarvede orange/brun: 2 tråde mohair fv. Salty Caramel
Den navy/hvid stribede: 2 tråde Mayflower Super Kid Silk i fv. 82 Mørk marineblå og 06 Råhvid.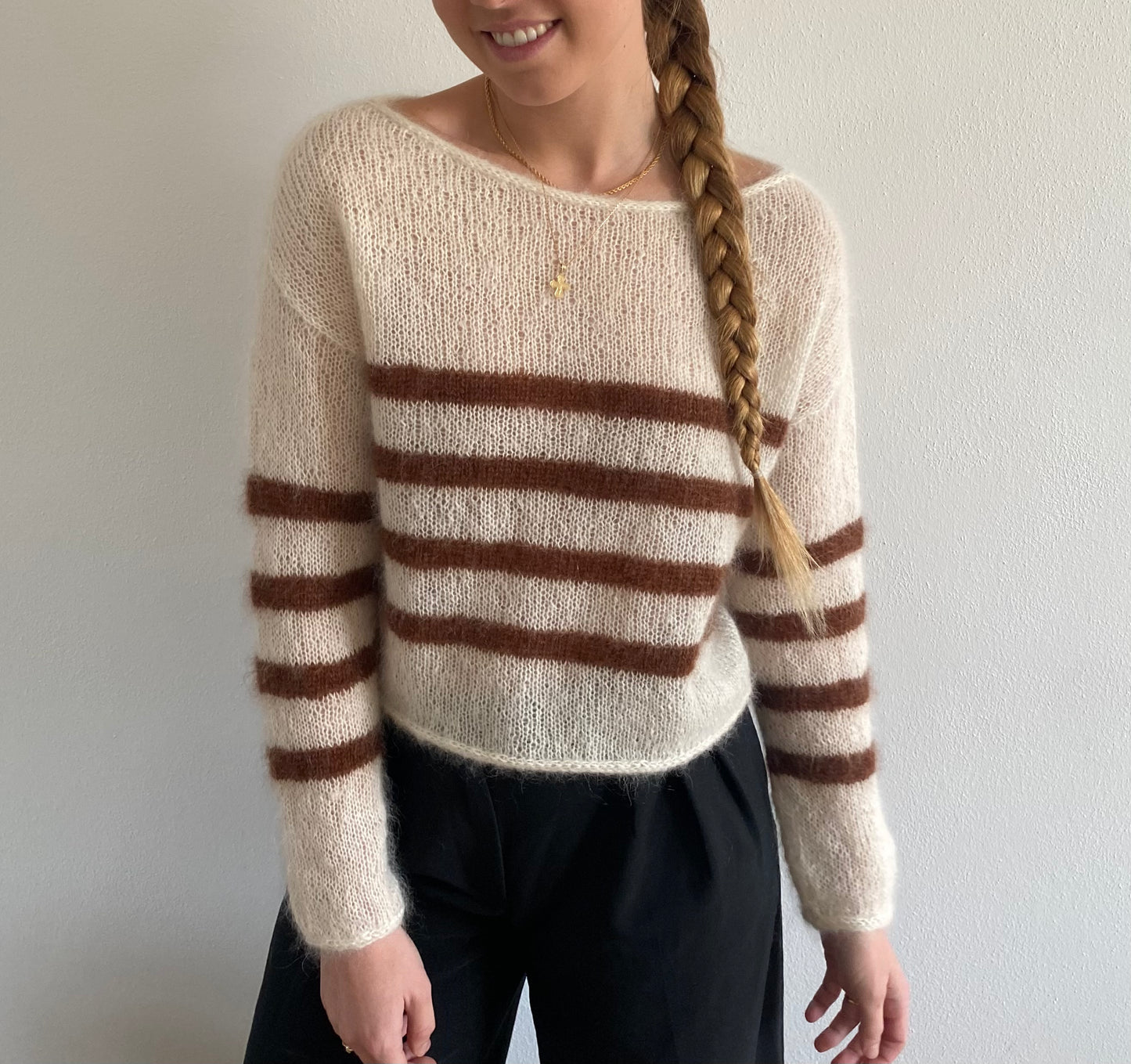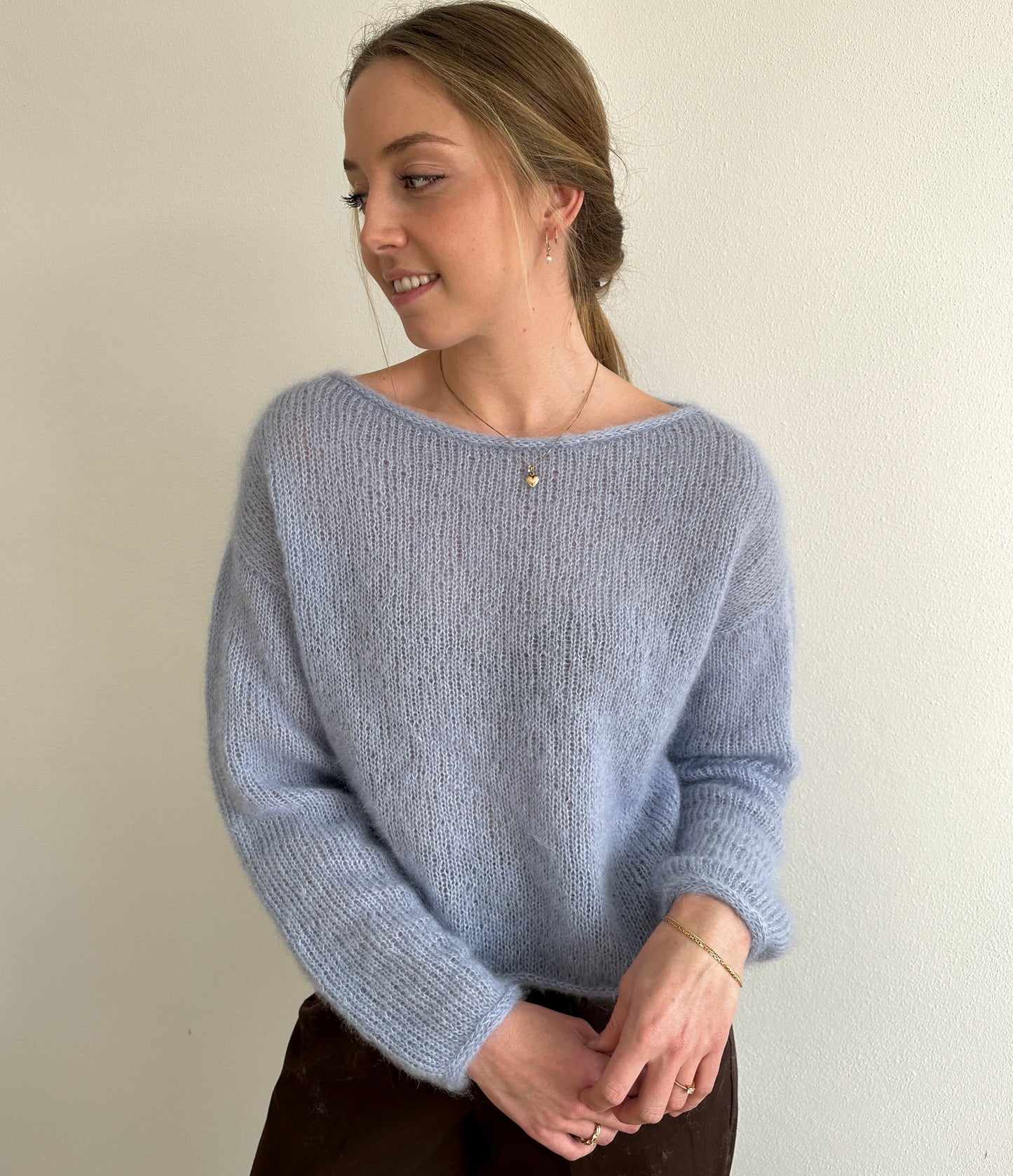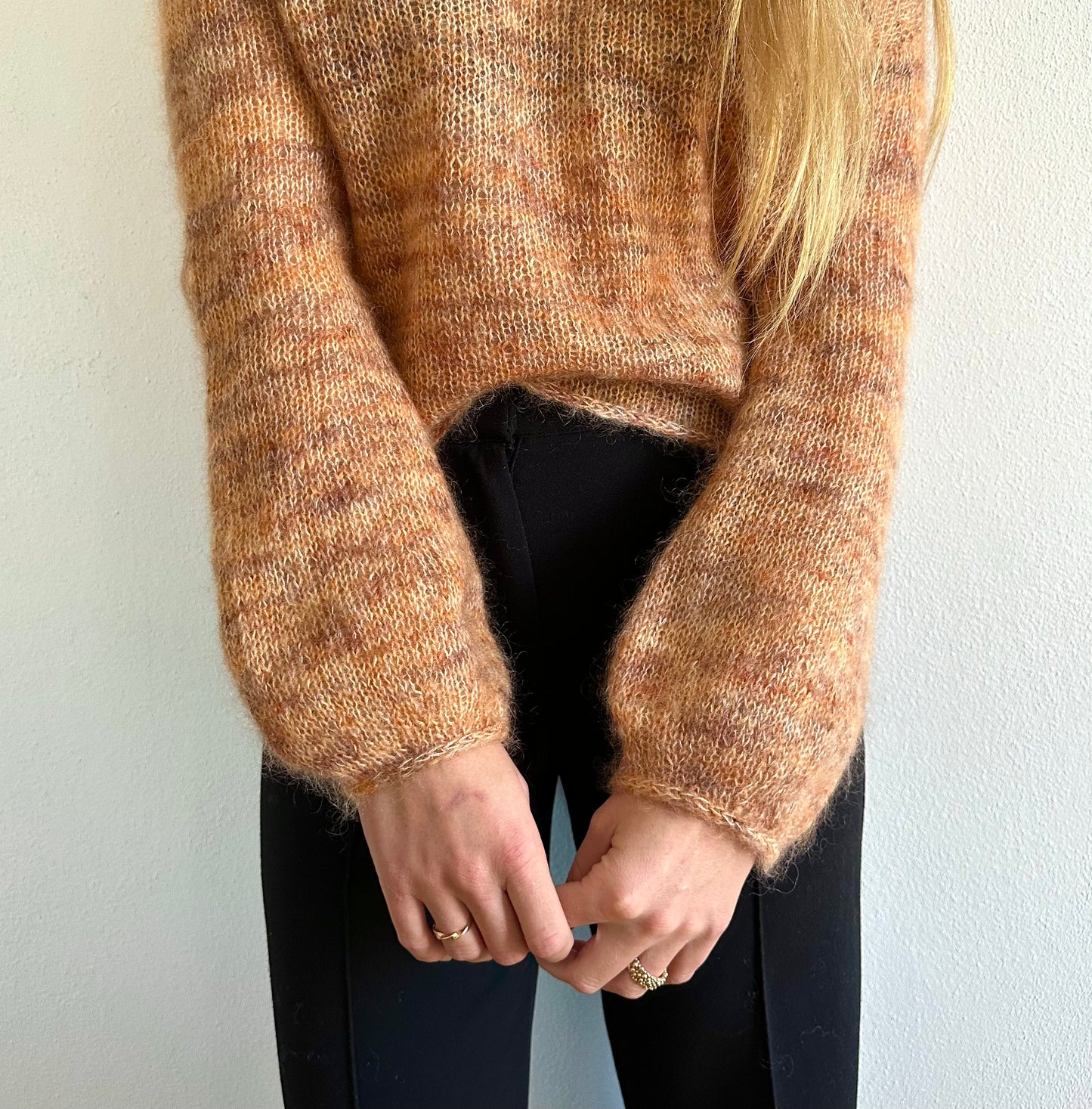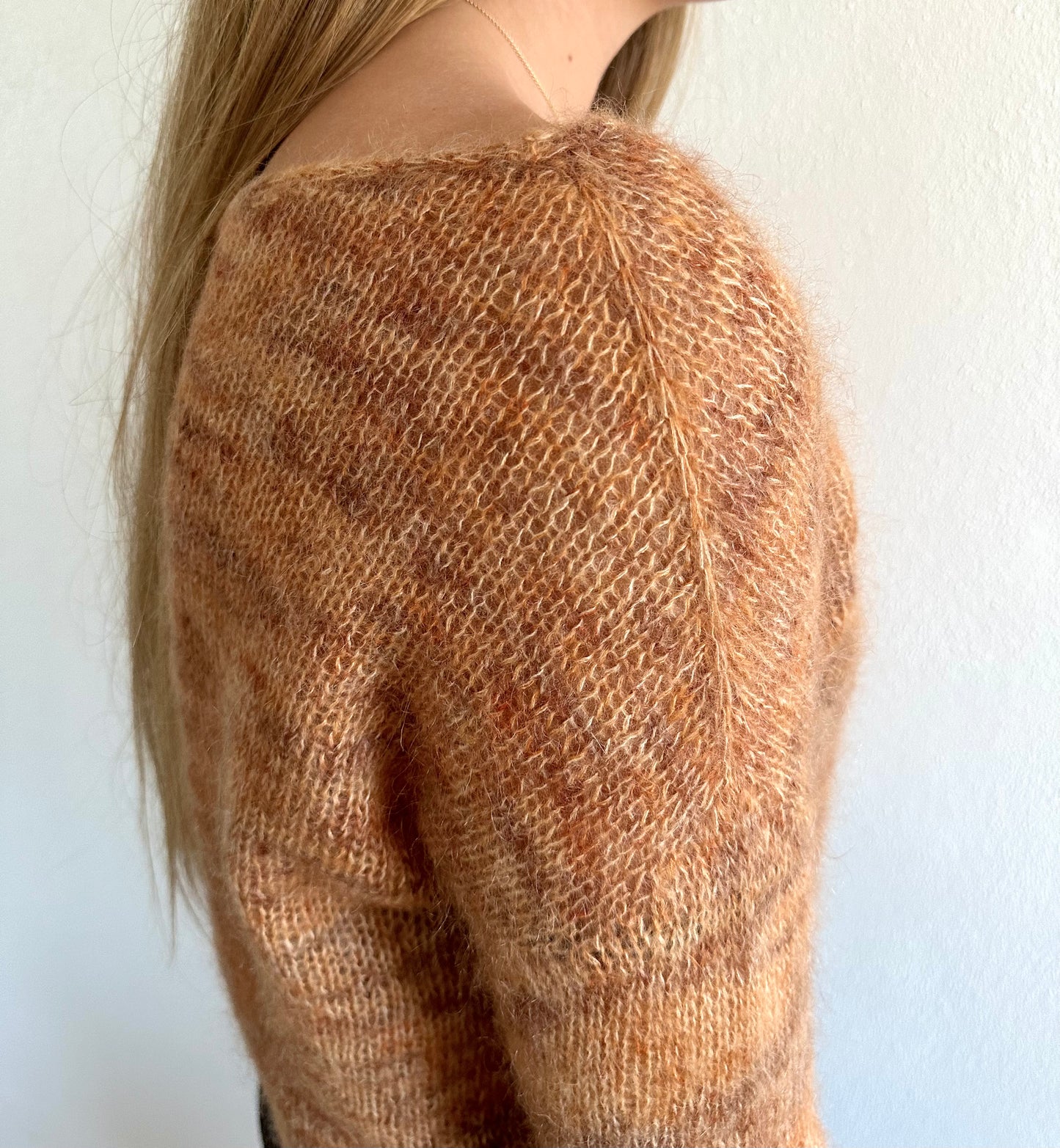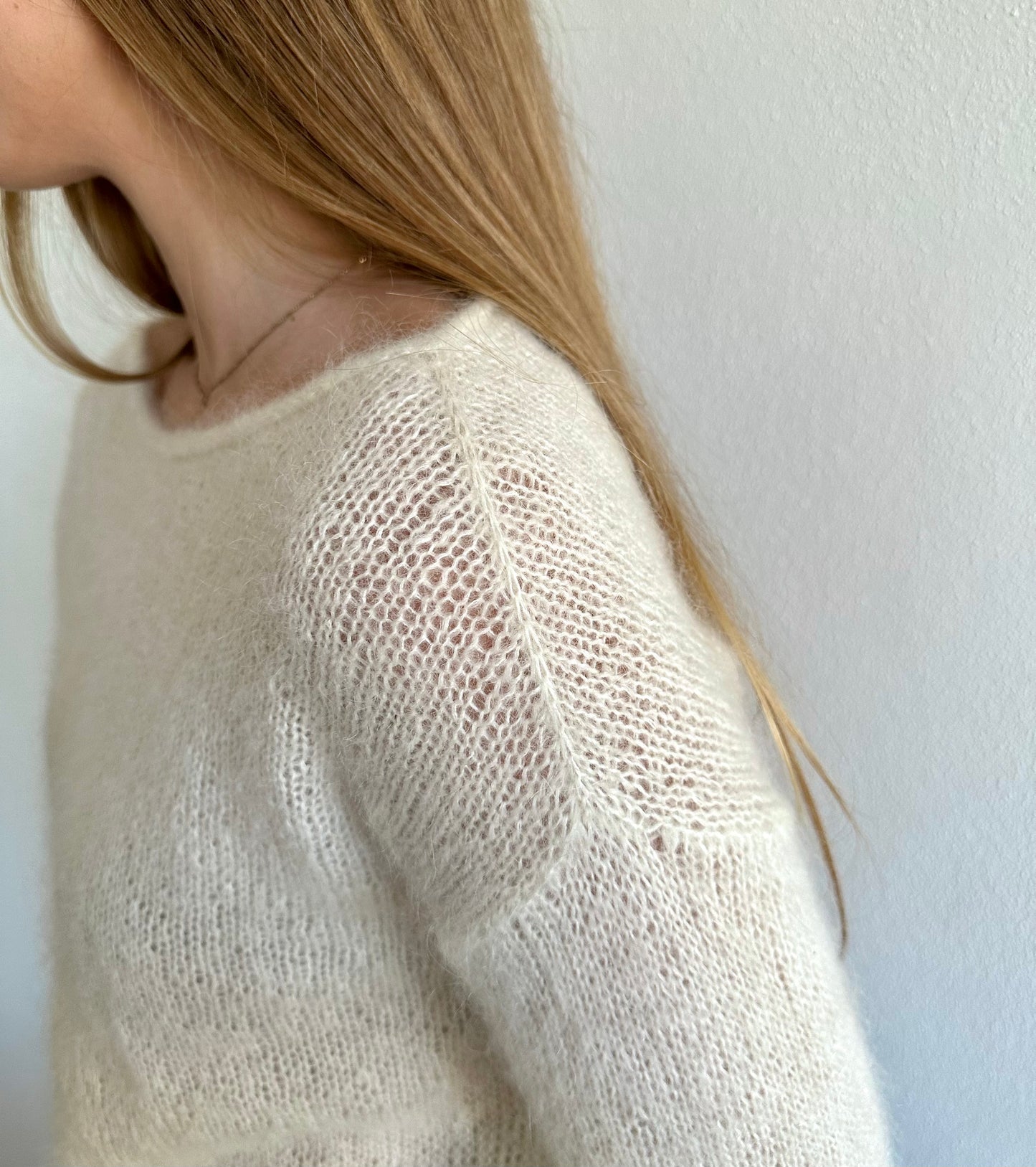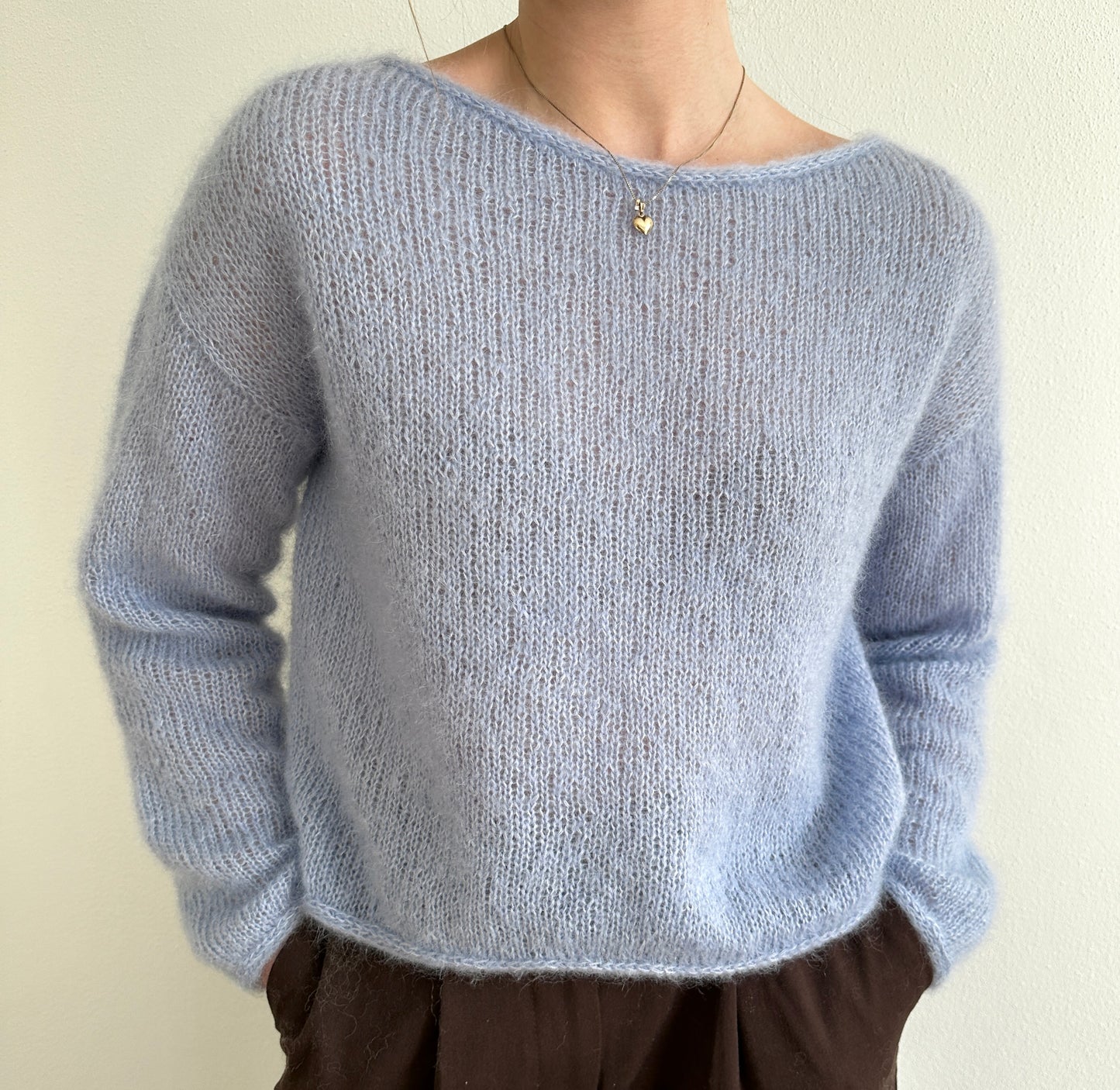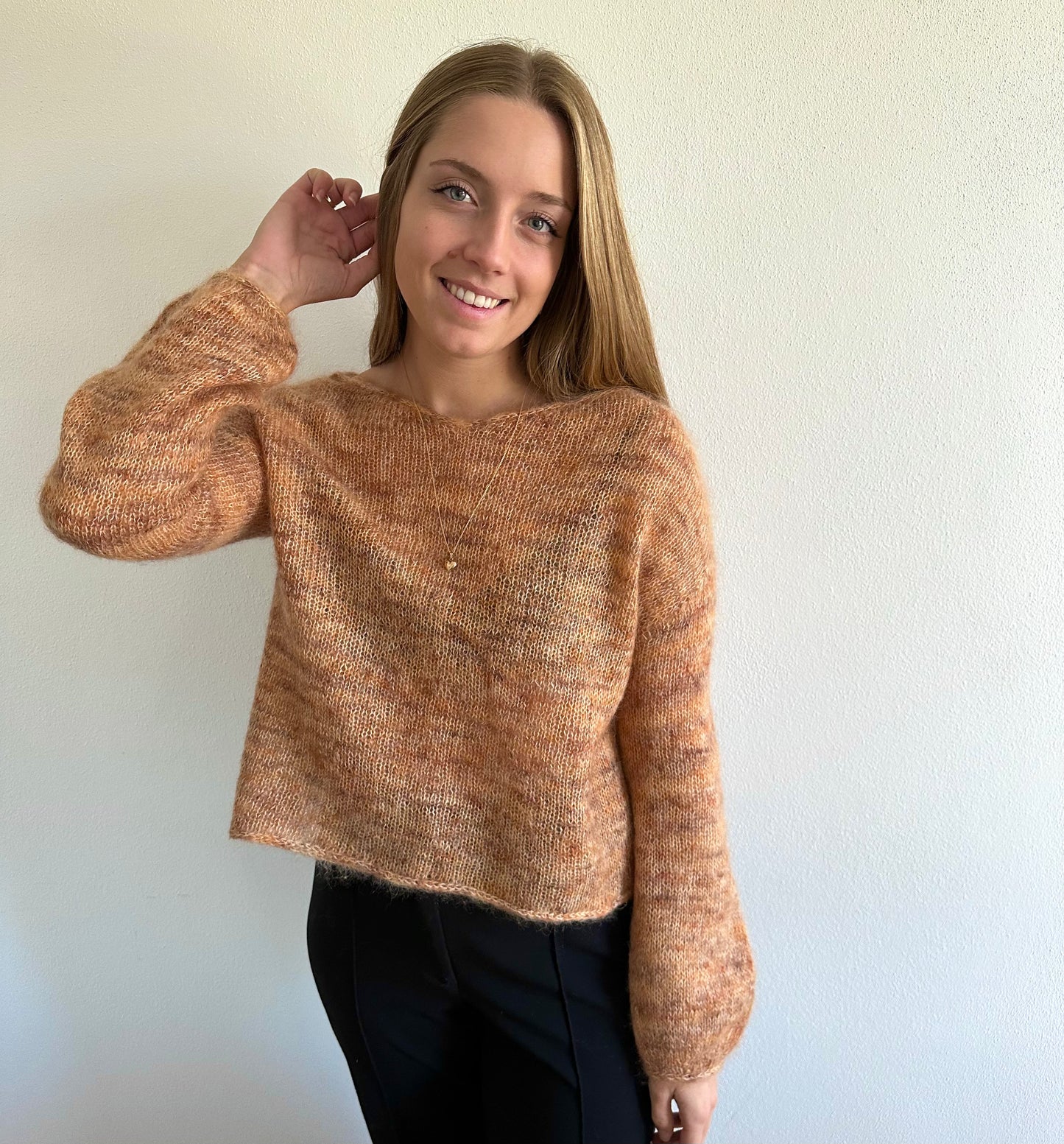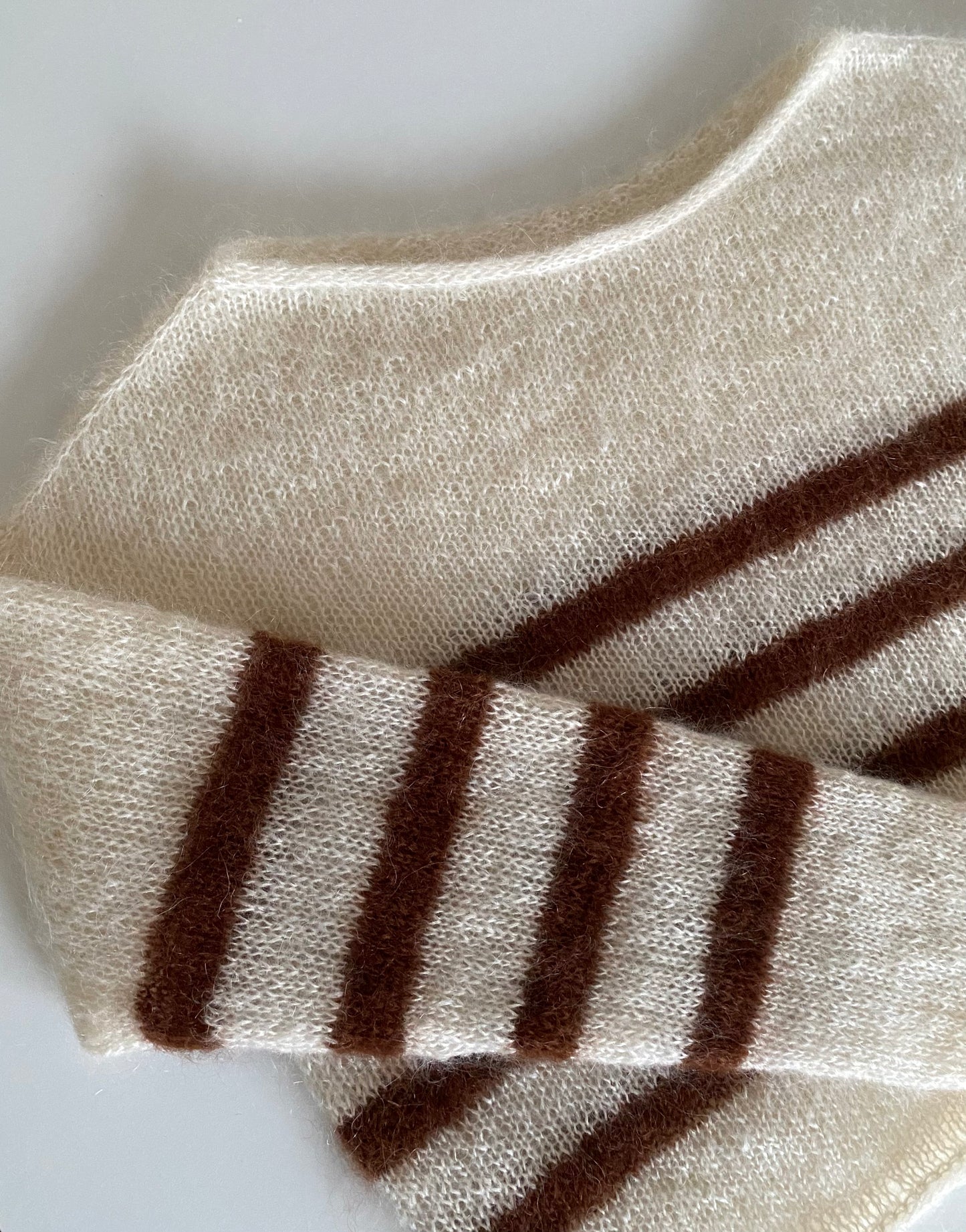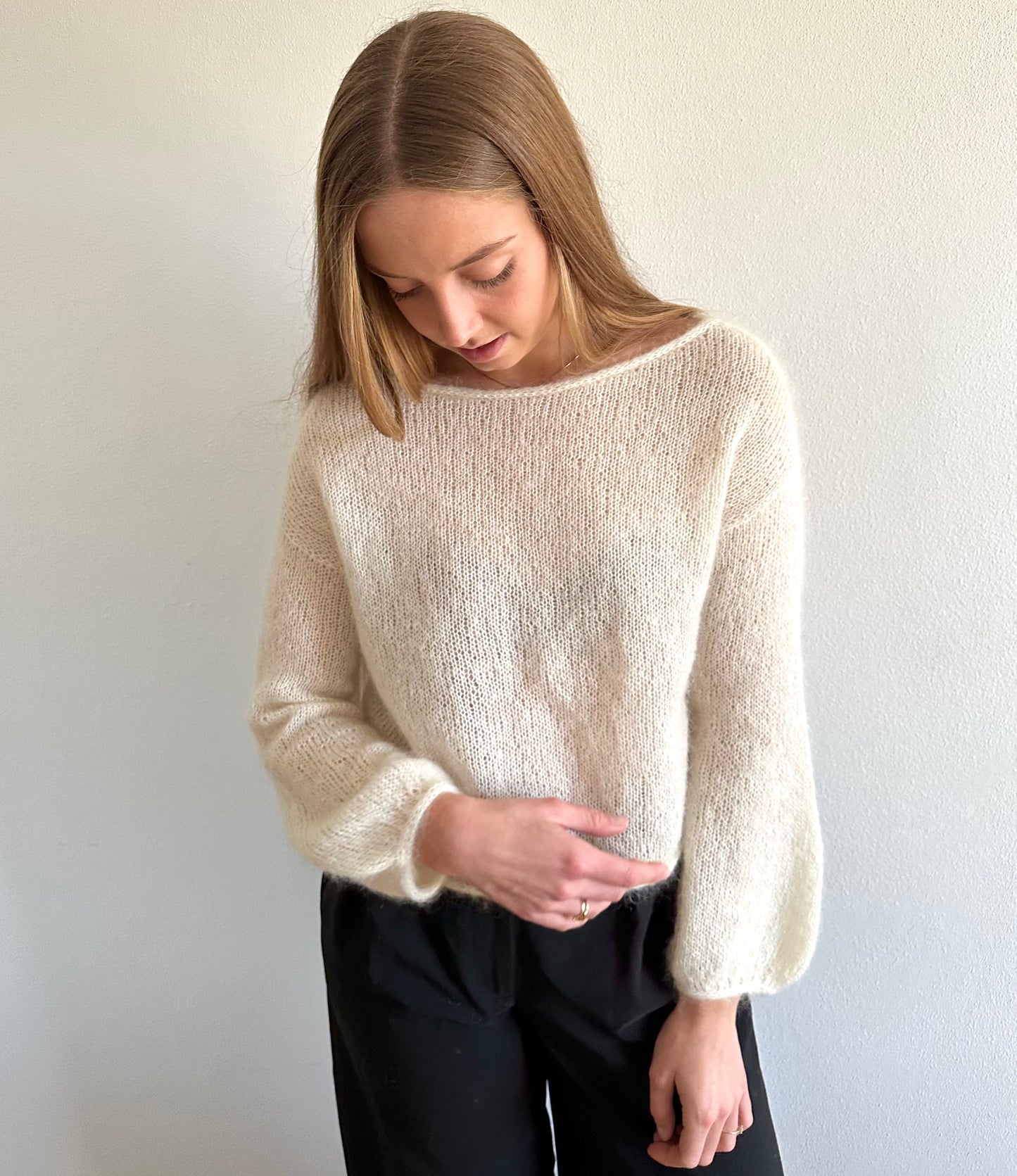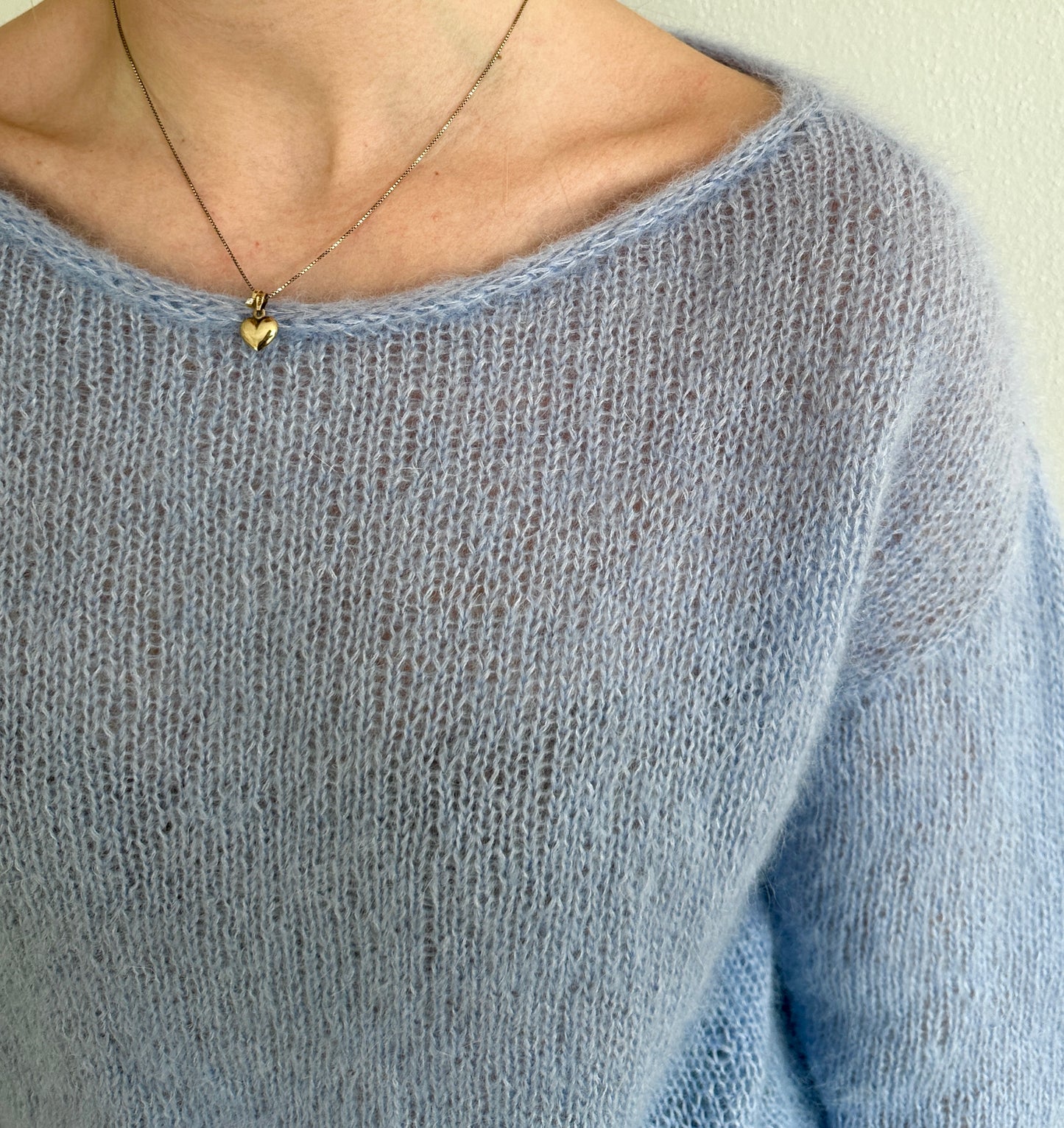 Delivery

After your purchase the patterns are immediately sent to your e-mail address as PDF-files.