Boat Blouse - Norsk
Regular price
Sale price
$8.00 USD
Unit price
per
Sale
Sold out
Share
Konstruksjon:
Genseren strikkes ovenfra og ned. Først legges det opp masker til den ene skulderen, som formes ved å strikke frem og tilbake, mens det lages økninger til halsåpningen. Den andre skulderen strikkes på samme måte, der de to skulder-stykkene samles med løkkeopplegg, hvor bærestykket skapes. Bærestykket strikkes rundt på pinnen i glattstrikk, mens det lages ytterlige økninger.
Maskene deles til et for- og bakstykke, som strikkes hver for seg. De samles igjen under ermet og bolen strikkes rundt i glattstrikk. Det avsluttes med en i-cord kant. Deretter samles det masker opp langs halskanten, som også strikkes som en i-cord kant. Deretter plukker en opp masker til ermene, som startes med vendepinne. Deretter strikkes det glattstrikk med, enten økning eller fellinger underveis, avhengig av om det ønskes ballongermer eller vanlige ermer. Ermene avsluttes også med i-cord kant.
Størrelsesguide:
Genseren kan strikkes i 7 forskjellige størrelser, XS (S) M (L) XL (2XL) 3XL, som har en overvidde på 95 (98) 102 (109) 116 (126) 136 cm. Før du velger hvilken størrelse du skal strikke, anbefaler vi, at du måler deg over brystet, eller bredeste sted og ut fra denne bredden velger den størrelsen som passer best til den ønskede passformen. Dersom man ønsker en normal passform anbefaler vi en bevegelsesvidde (positive ease) på ca. 5-10 cm.
Eksempel: Har du en brystvidde på 90 cm, anbefaler vi å strikke en størrelse S, hvis du ønsker en tettere passform med en bevegelsesvidde (positive ease) på 8 cm. Eller dersom du ønsker en oversized look kan du strikke str. M, som gir en bevegelsesvidde (positive ease) på 12 cm.
Strikkefasthet:
18 masker x 26 pinne = 10 x 10 cm glattstrikk.
Veiledende pinne:
4,5 mm rundpinne med 40 og 80 cm lengde.
Garnforslag:
2 tråder: Mayflower Super Kid Silk (25 g = 195 m) eller Garna Cava (25 g = 250 m) eller Lana Gatto Silk Mohair (25 g = 212 m) eller
1 tråd: Garnpusher Mohair edition 4eren.
Garnmengde:
150 (175) 200 (225) 250 (250) 275 g silk mohair når det strikkes dobbelttråd.
150-200 (200) 250 (250) 250 (250-300) 300 g Garnpusher Mohair Edition 4eren
Andre materialer:
Strikkenål, restegarn/maskeholder, maskemarkører.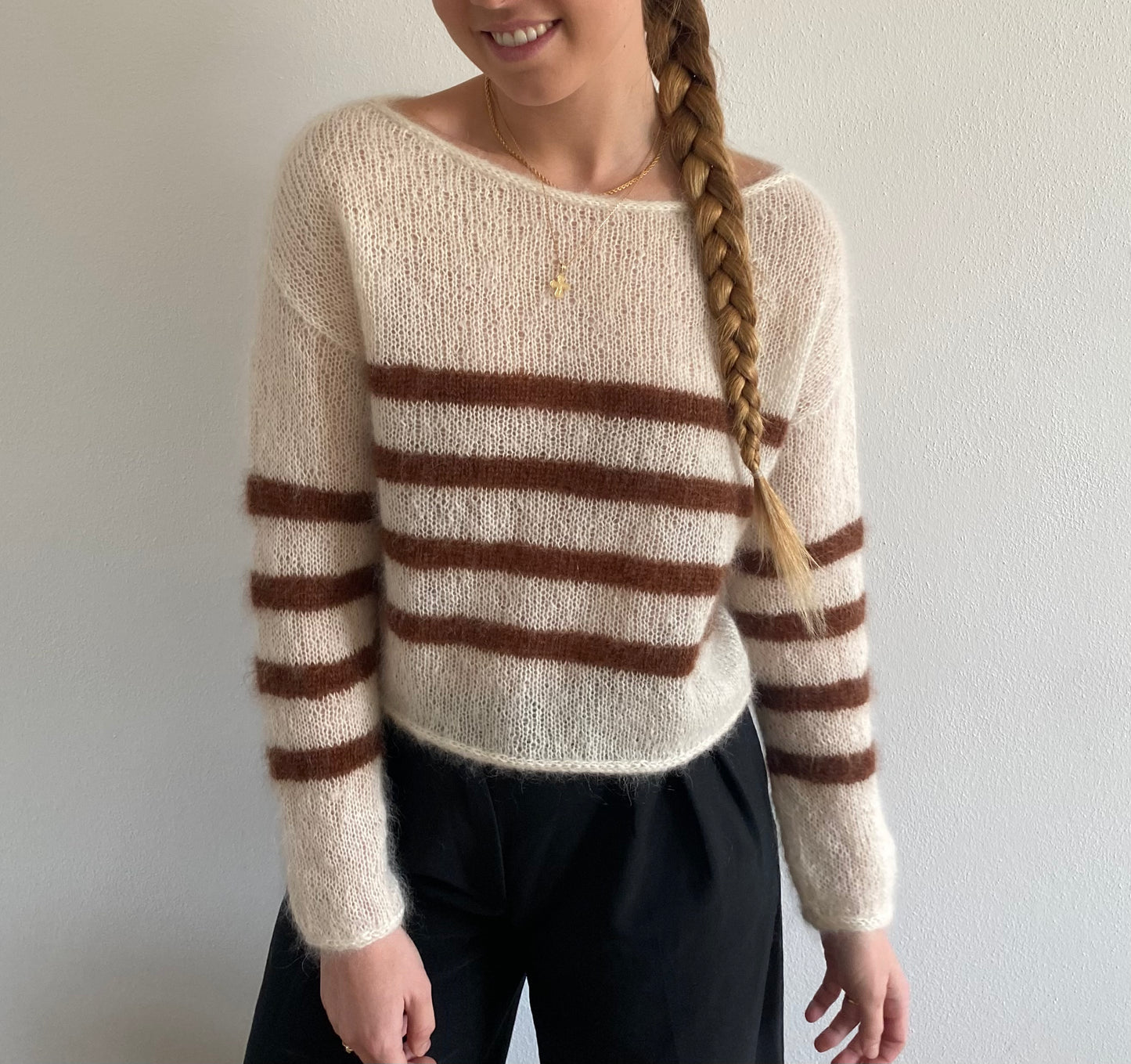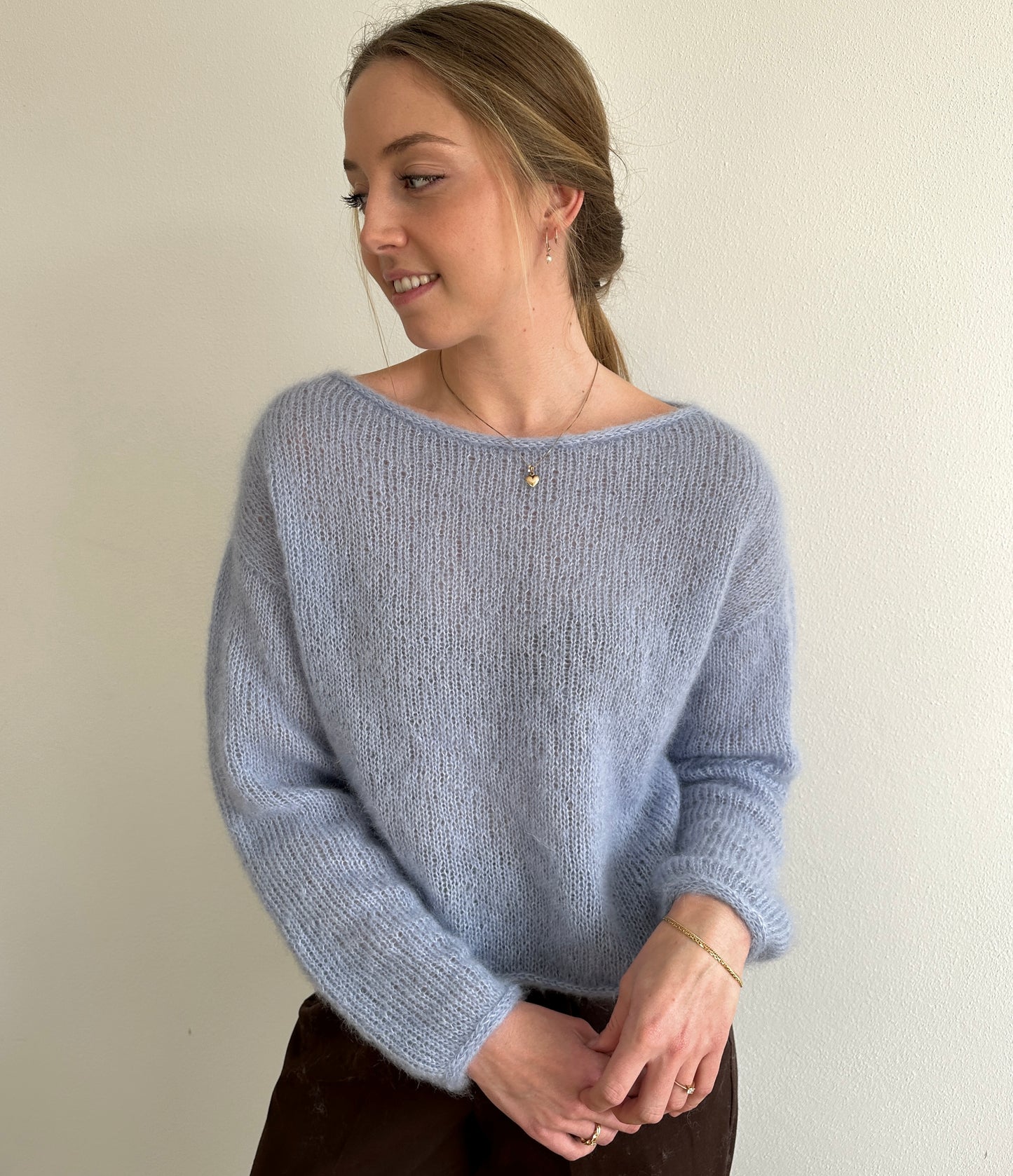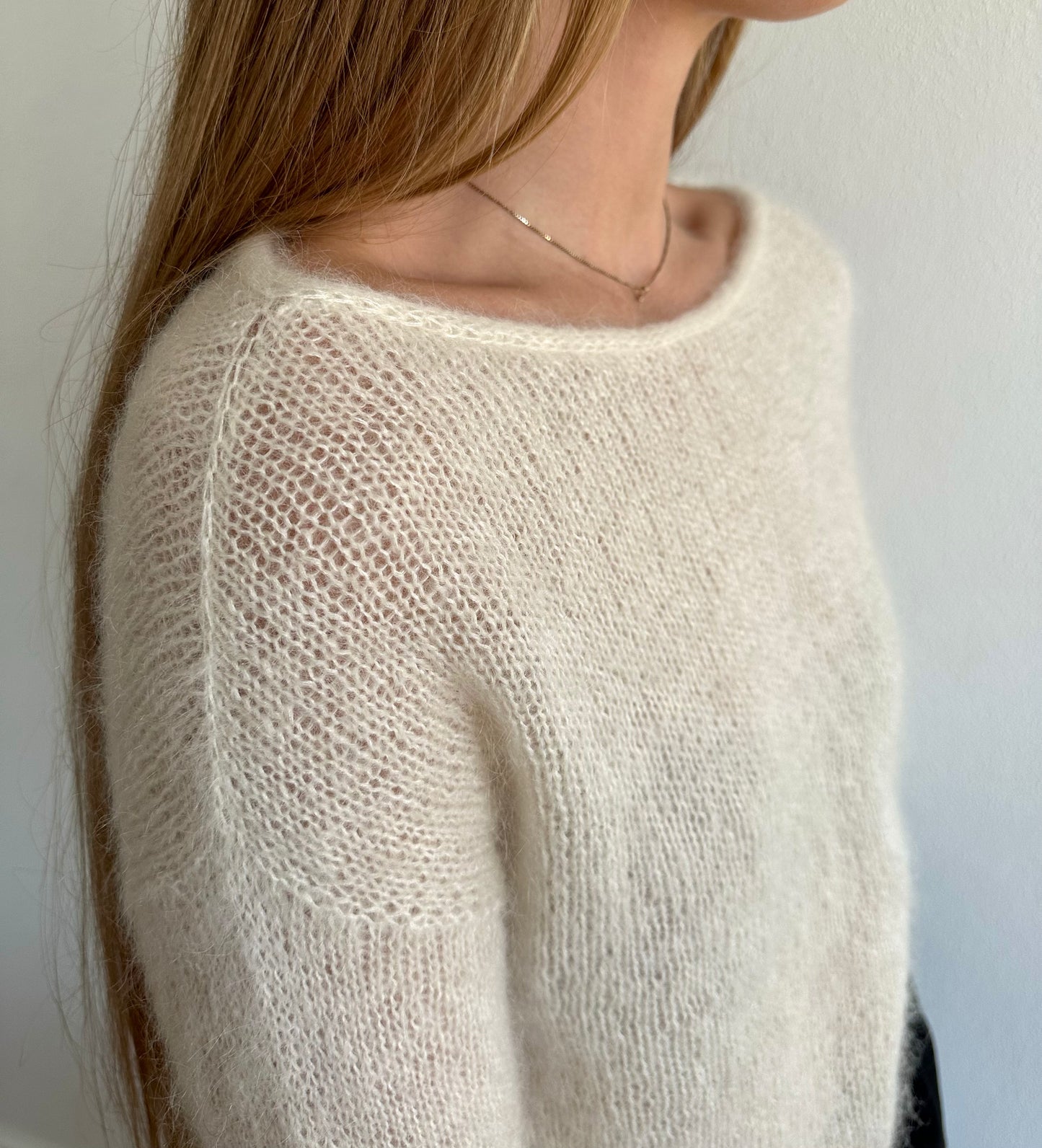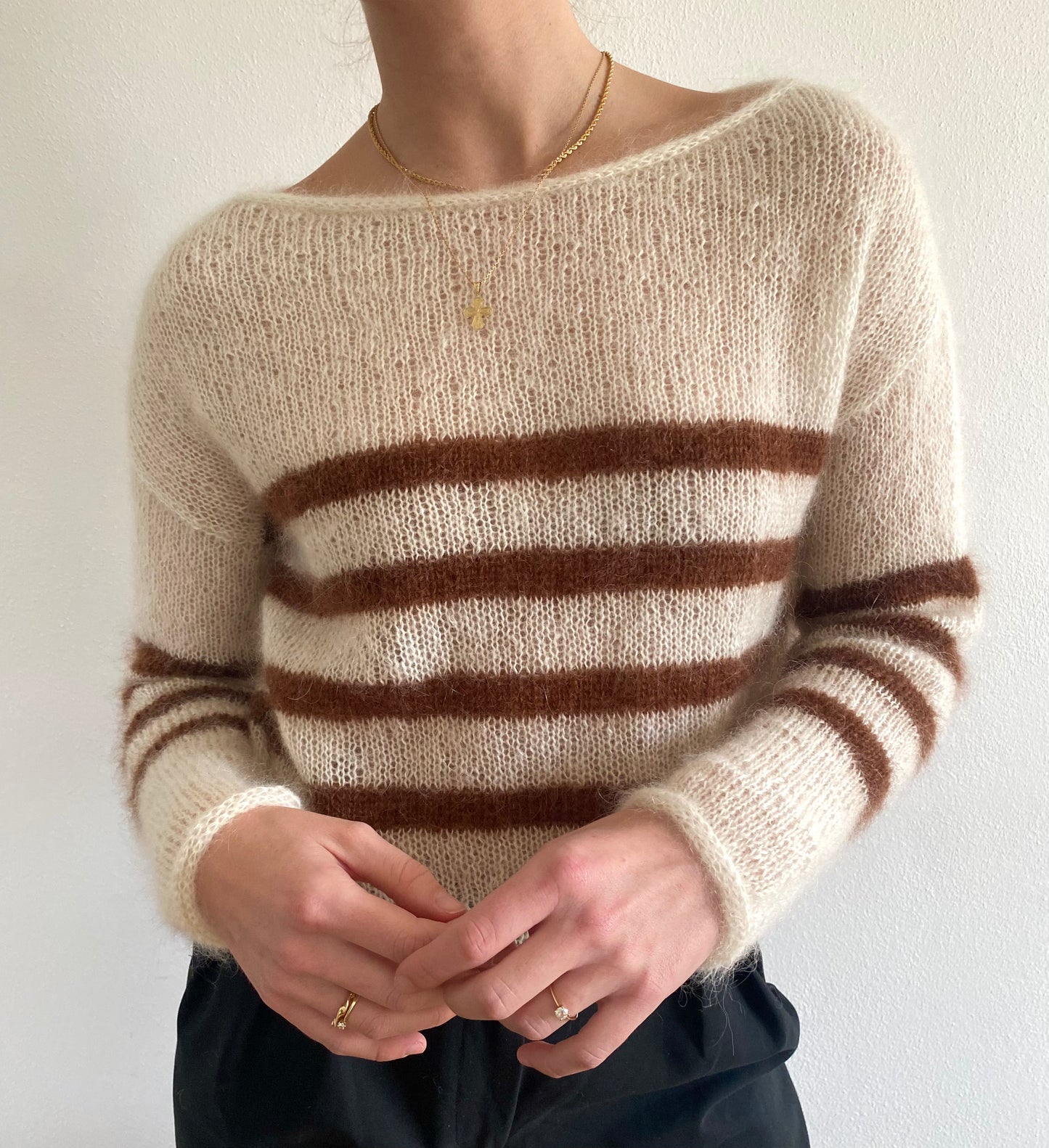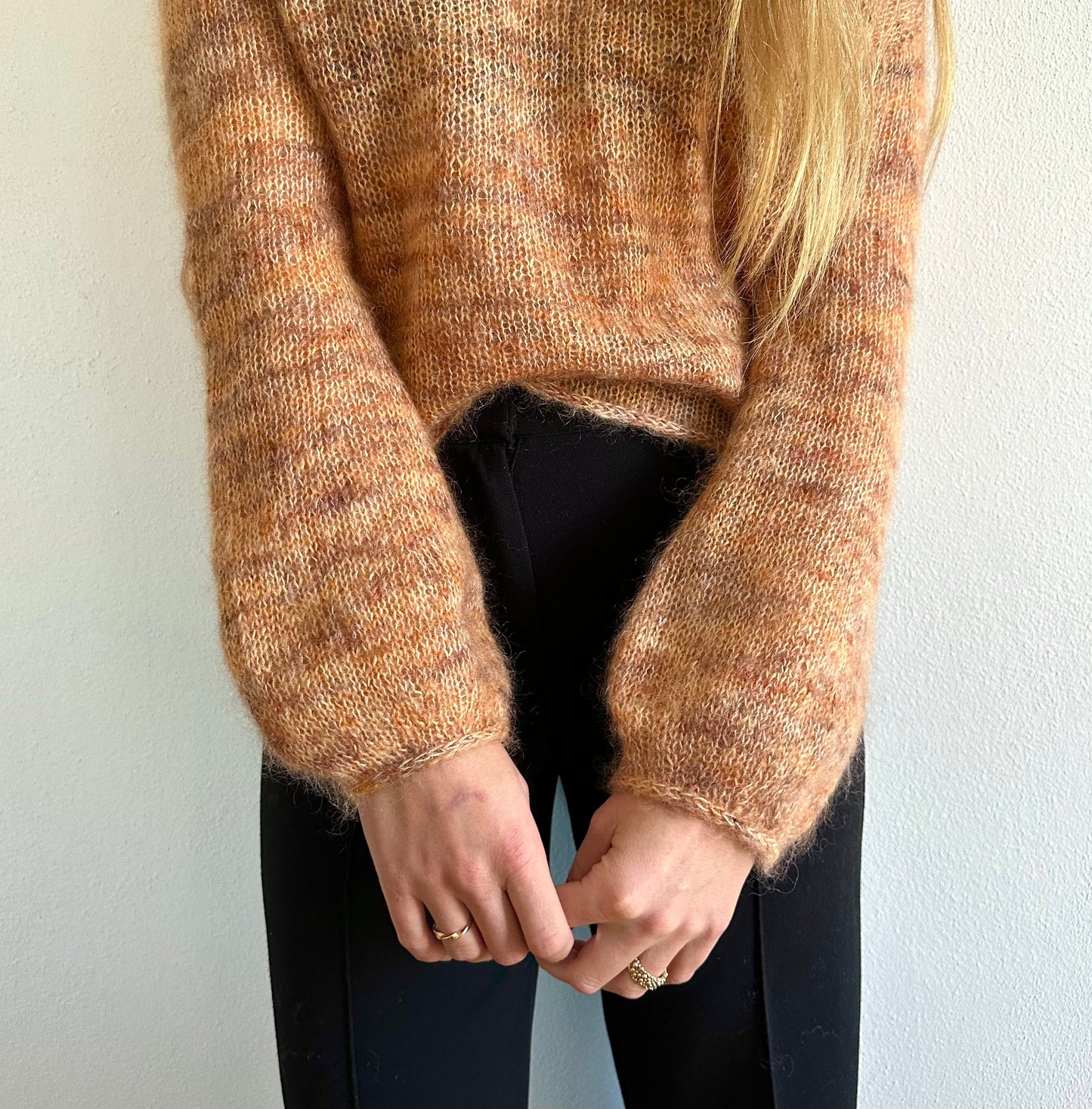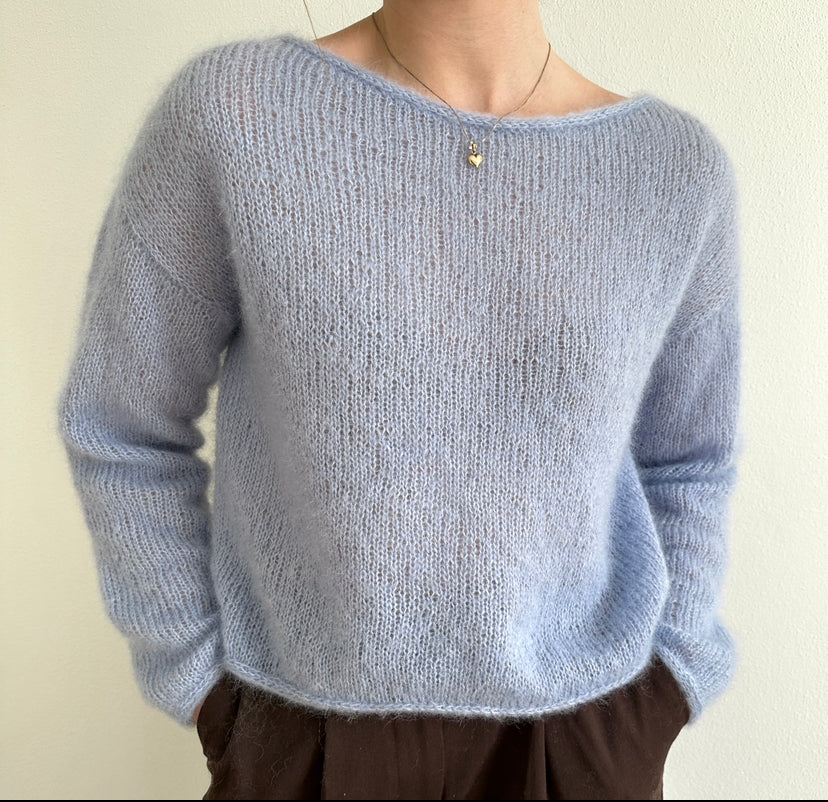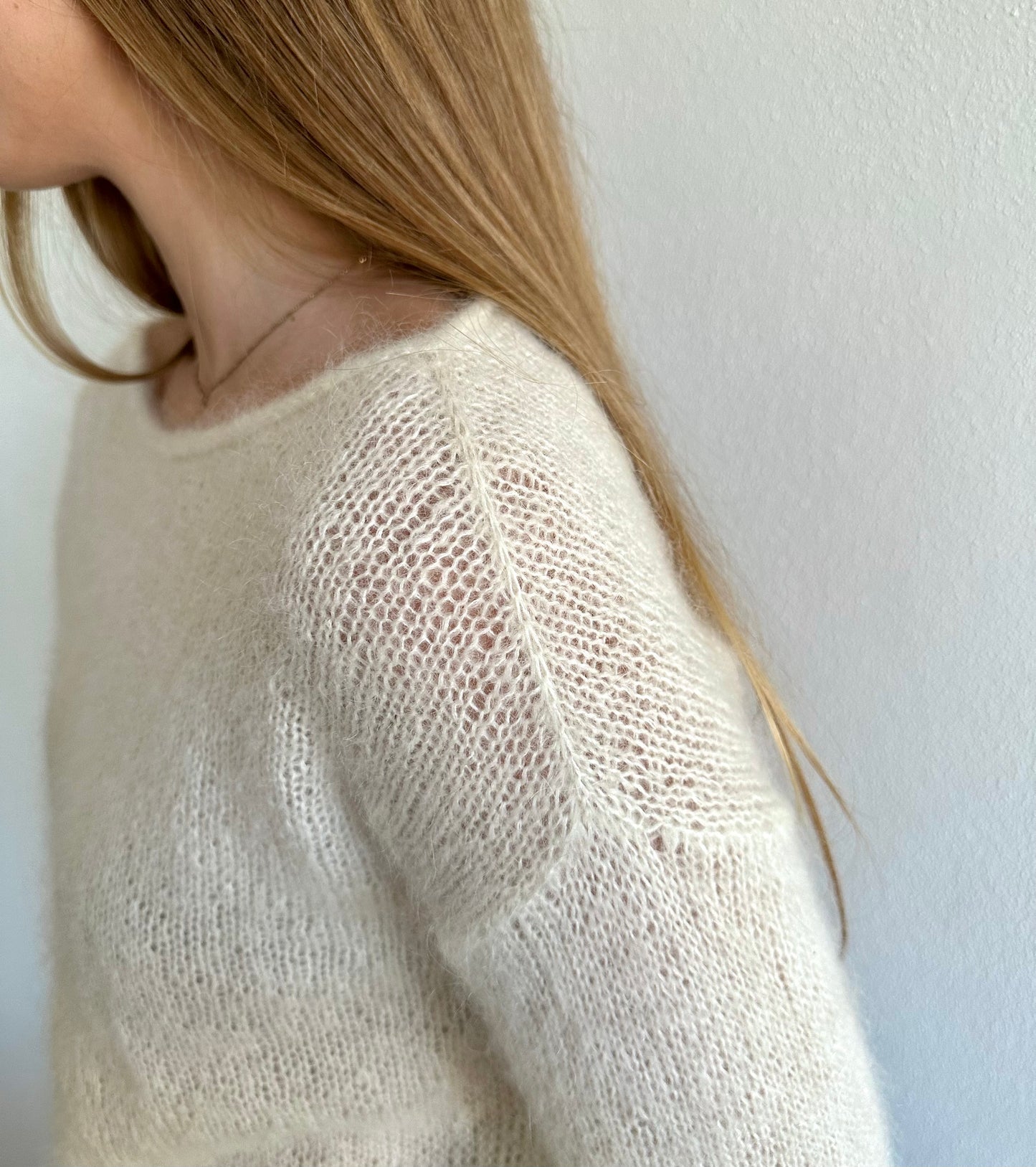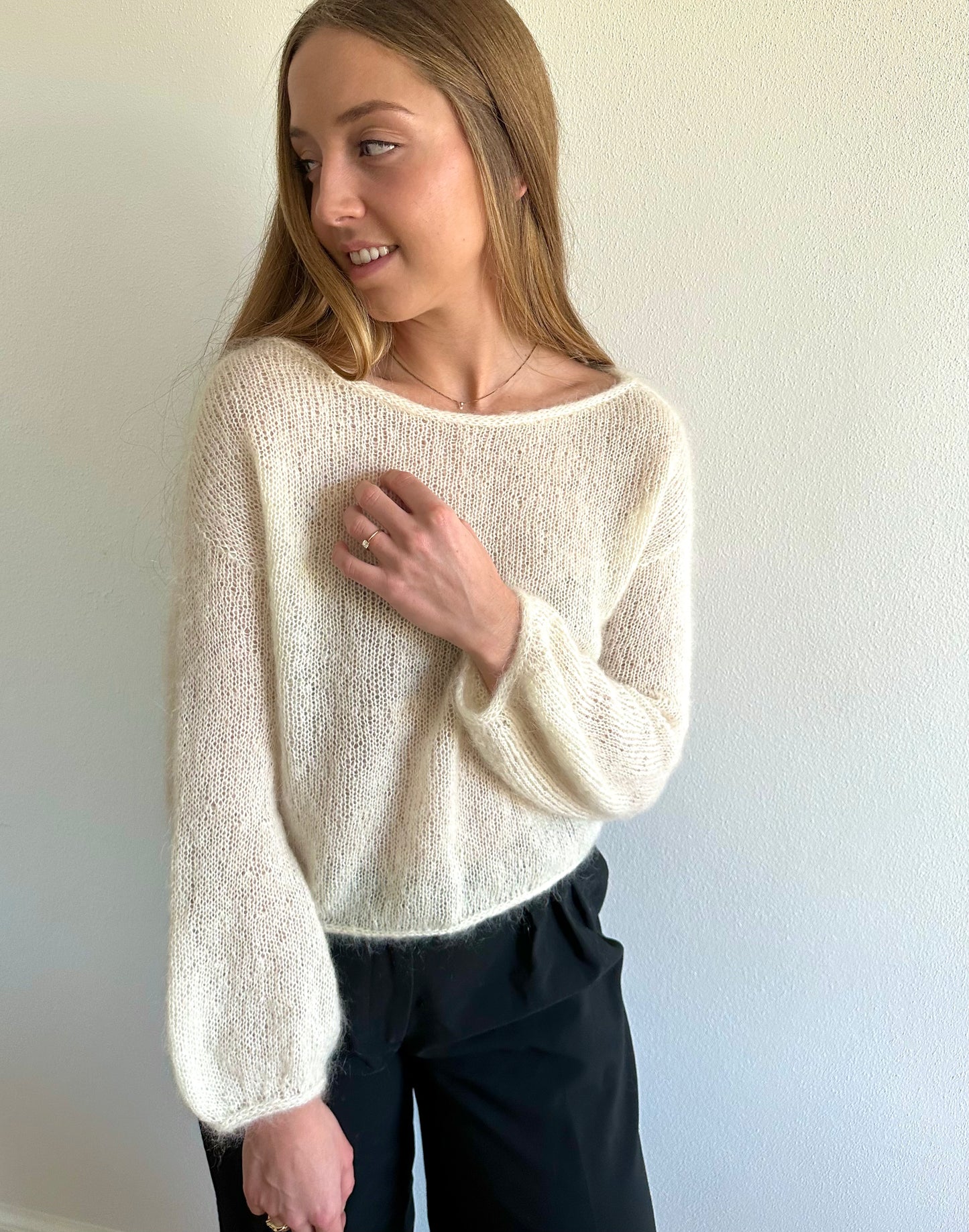 Delivery

After your purchase the patterns are immediately sent to your e-mail address as PDF-files.