Shell Sweater - Norsk
Regular price
Sale price
$8.00 USD
Unit price
per
Sale
Sold out
Share
Konstruksjon
Genseren strikkes ovenfra og ned. Først legges det opp masker til halskanten, som strikkes i vridd ribb og brettes til en dobbelt halskant. Deretter strikkes vendepinner for å skape rett form til bærestykket. Bærestykket strikkes med raglanøkninger rundt 8 maskemarkører. Når bærestykket er ferdigstrikket, settes masker av til ermer. Kroppen strikkes rundt på pinnen og avsluttes med en vridd ribbkant, som felles av med italiensk avfelling. Ermemaskene settes så tilbake på pinnen, og strikkes også i skjellmønsteret. Ved ribbkanten felles det for å skape ballong-effekten. Ermene avsluttes med vridde ribbkanter og italienske avfellinger.
Størrelser
Genseren kan strikkes i 6 forskjellige størrelser, XS (S-M) L (XL) 2XL-3XL (4XL), som har en overvidde på 89 (100) 111 (122) 133 (144) cm. Før du velger hvilken størrelse du skal strikke, anbefaler vi, at du måler over brystet eller bredeste sted og ut fra dette mål velger den størrelsen som passer best til din ønskelige passform. Dersom du ønsker en litt tettere passform anbefaler vi en veiledende bevegelsesvidde (positive ease) på ca. 7 cm, men dersom det ønskes en mere oversized look skal det være en bevegelsesvidde (positive ease) på ca. 15 cm i forhold til ditt brystmål.

Strikkefasthet
18 masker x 30 pinne = 10 x 10 cm i skjellmønsteret.
Veiledende pinne
4 mm rundpinne med 40 og 80 cm lengde, 3,5 mm rundpinne med 40 og 80 cm lengde, 3 mm rundpinne med 40 cm lengde.
Garnforslag
1 tråd Mayflower London Merino Fine (50 g = 175 m) sammen med 1 tråd Mayflower Super Kid Silk (25 g = 195 m) eller 1 tråd Alpaca (50 g = 165 m) sammen med 1 tråd Kid-Silk (25 g = 210 m) fra Drops.

Garnmengde
250-300 (300) 300-350 (350) 350-400 (400-450) 500 g merino/alpaca.
100-125 (125) 125-150 (150) 150 (150-200) 200 g silk mohair.
Andre materialer
Strikkenål, restegarn/maskeholder, maskemarkører.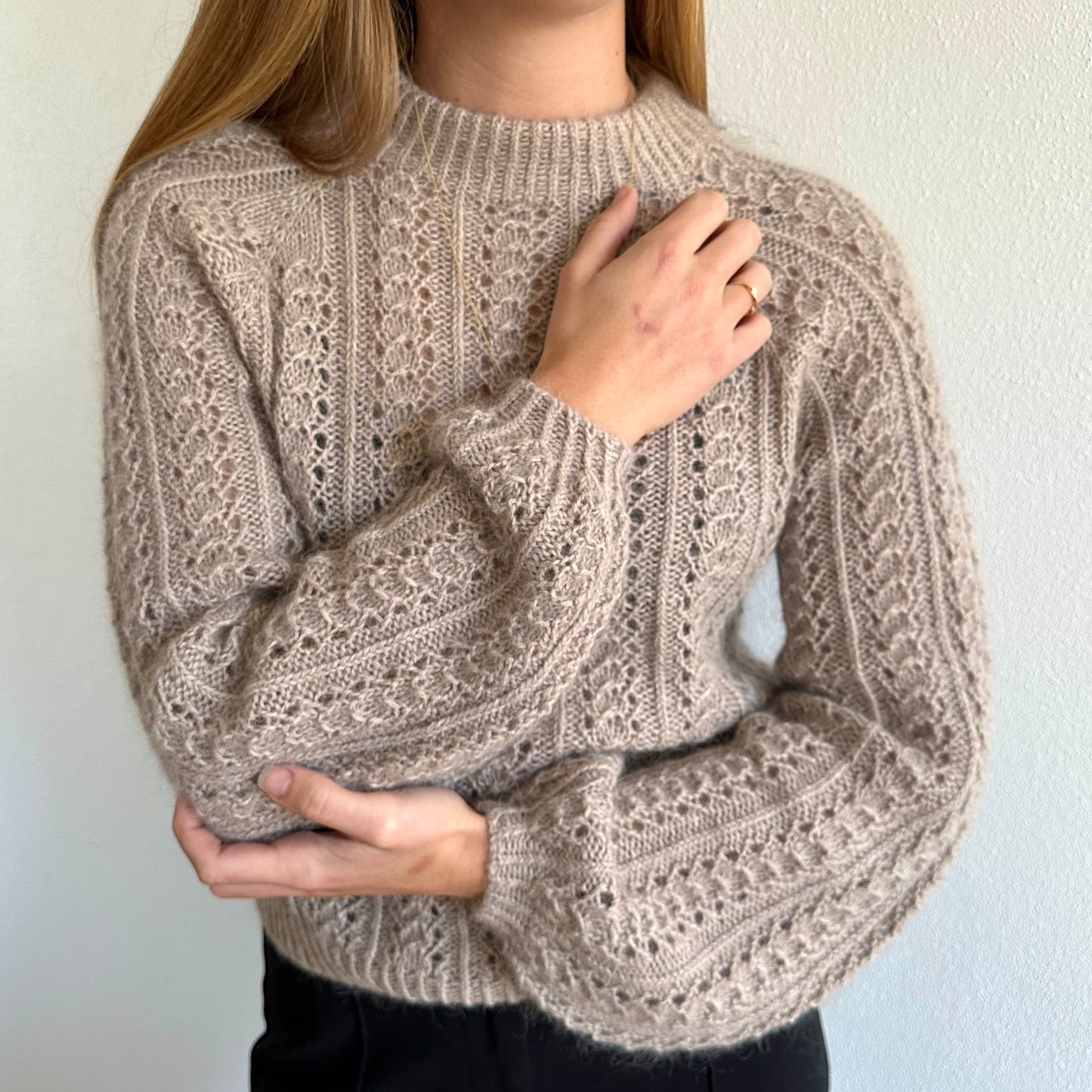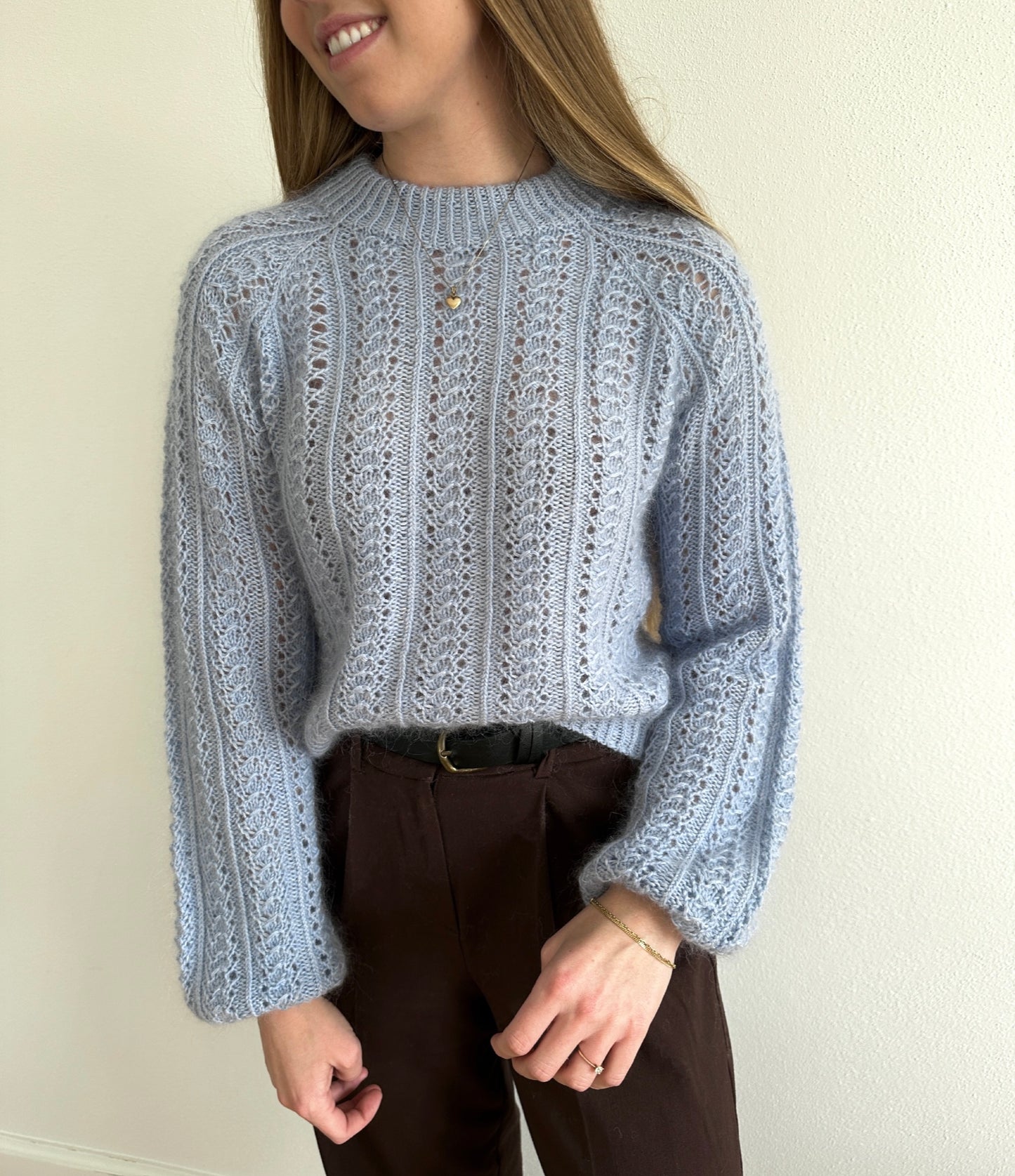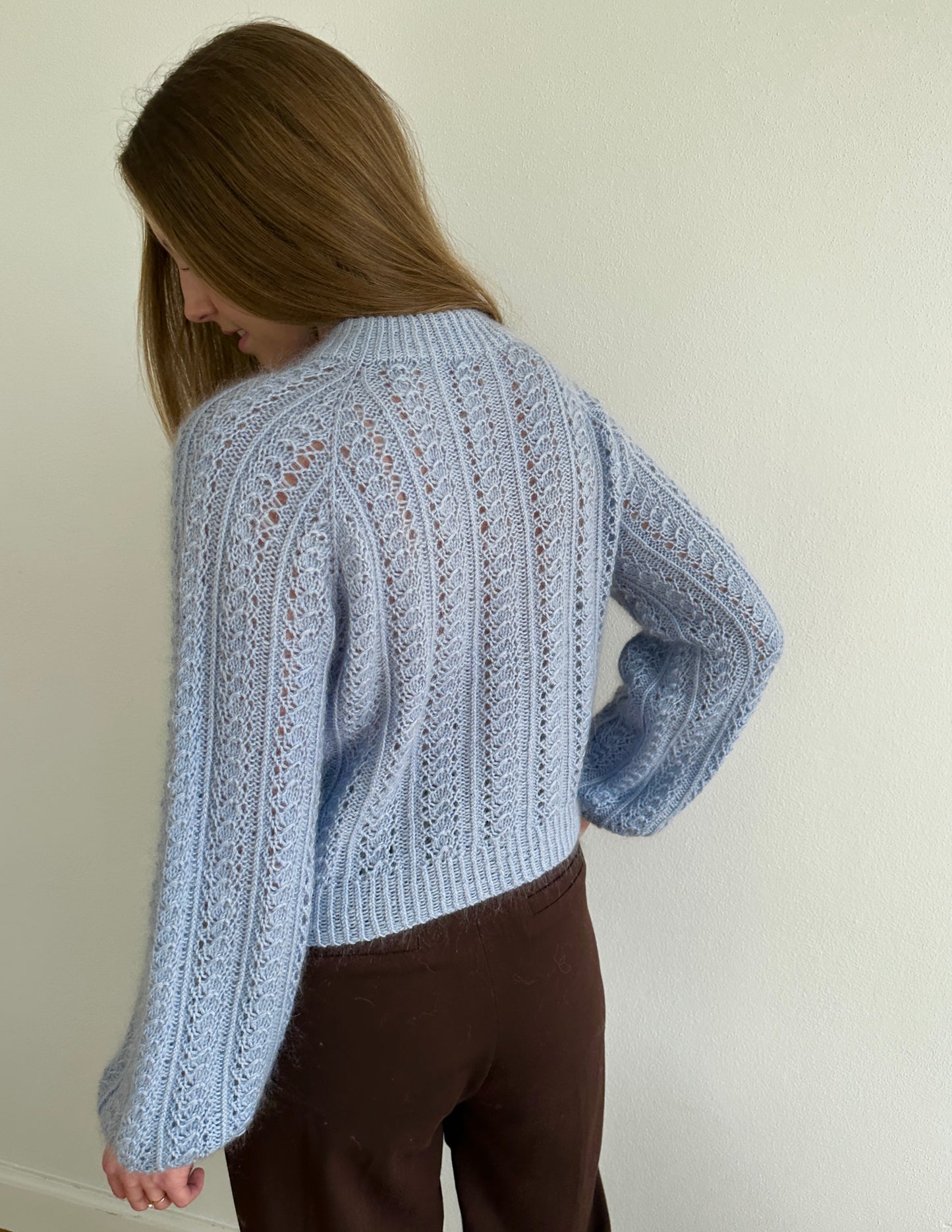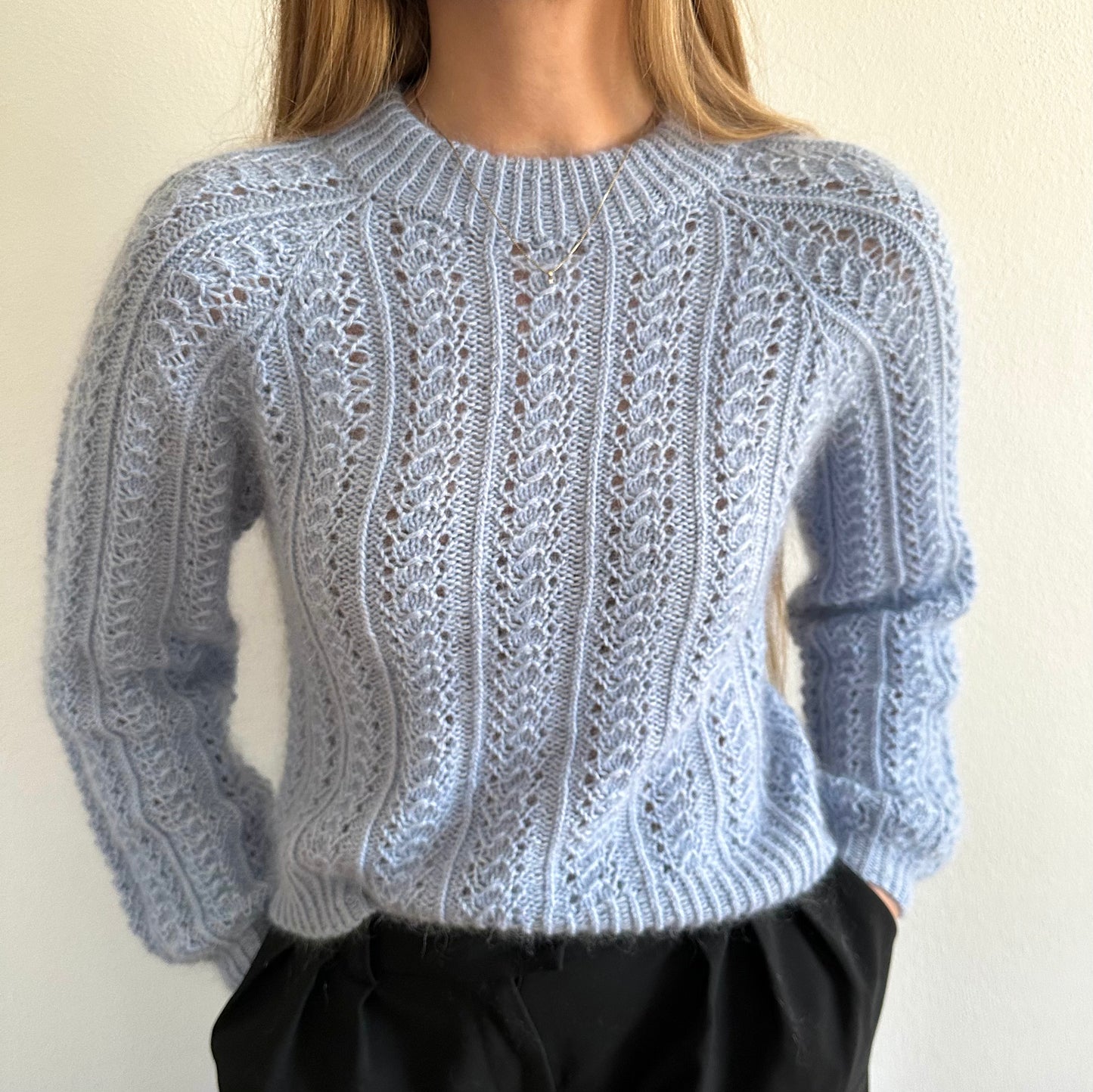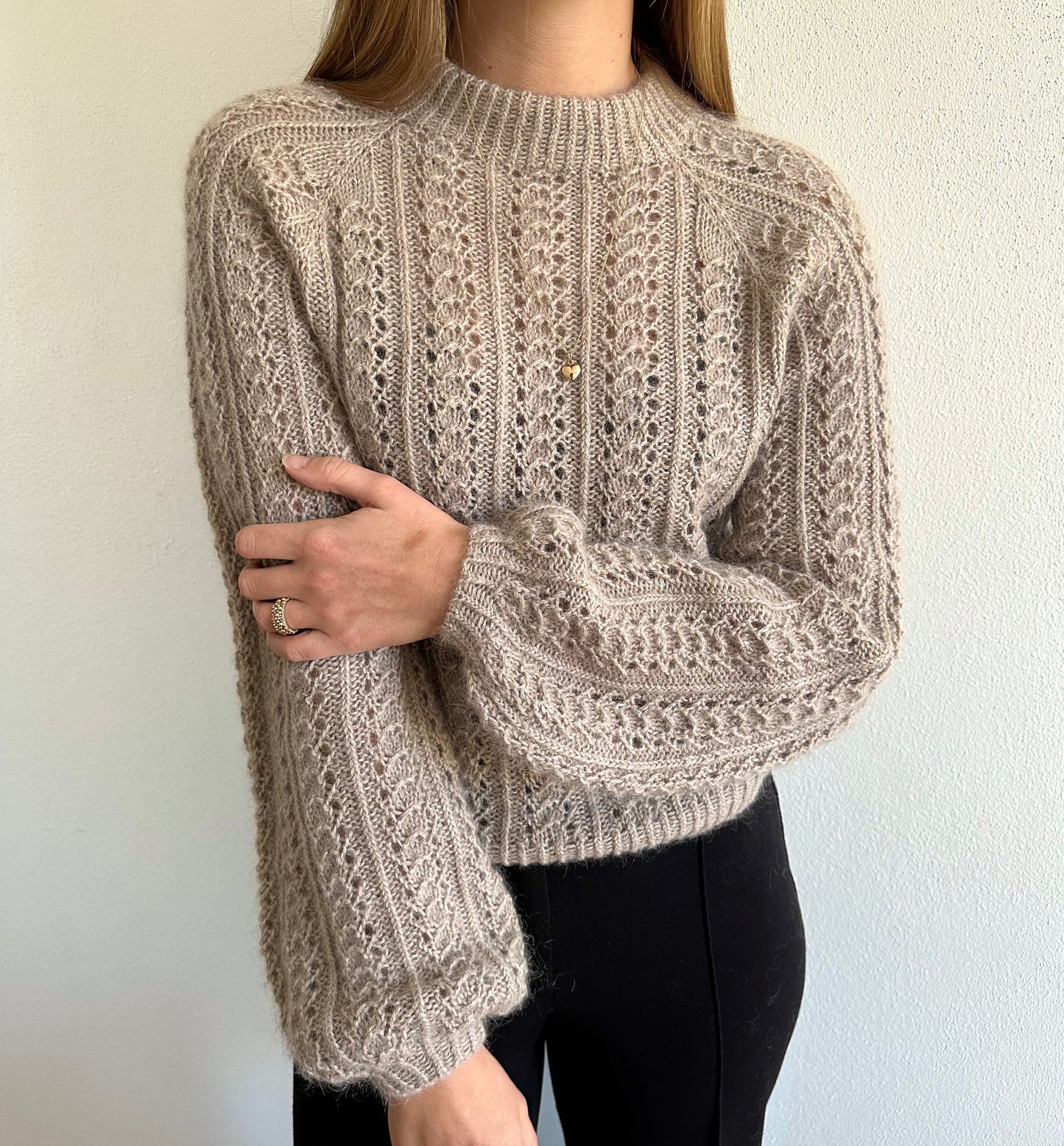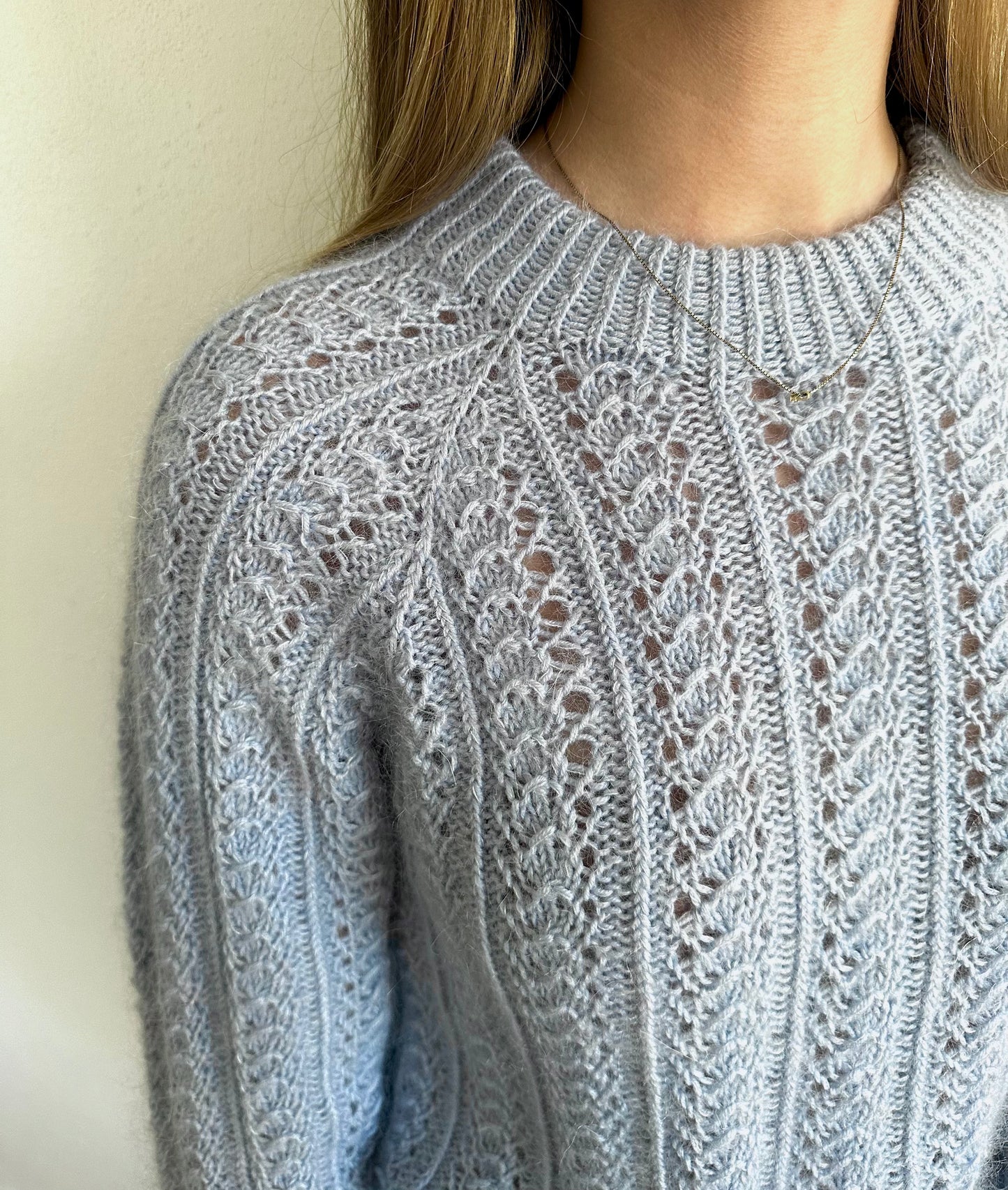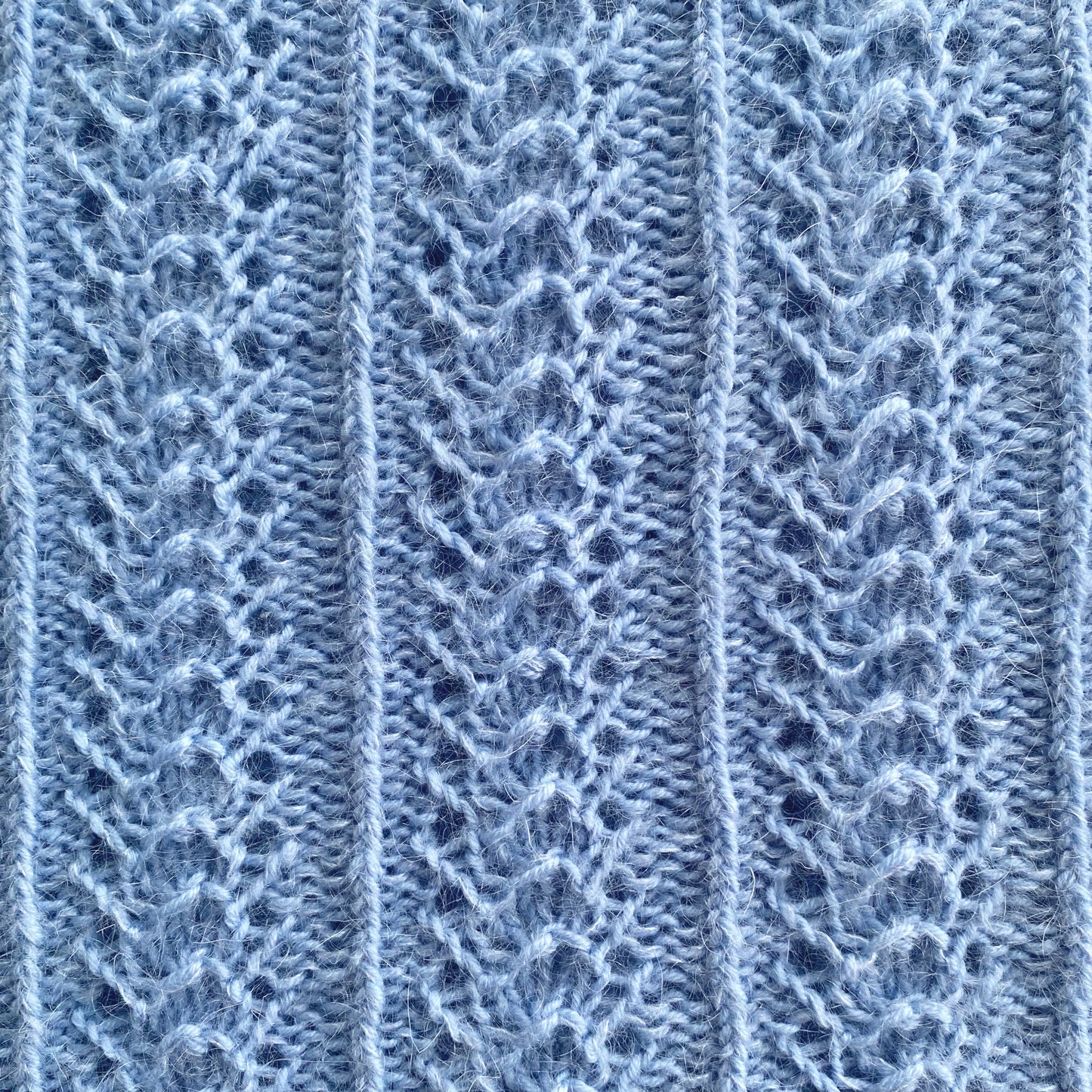 Delivery

After your purchase the patterns are immediately sent to your e-mail address as PDF-files.