Swirl Slipover - Deutsch
Regular price
Sale price
$8.00 USD
Unit price
per
Sale
Sold out
Share
Konstruktion:
Der Slipover wird von oben nach unten gestrickt. Zuerst wird das Rückenteil gestrickt, dann die Schultern, die mit Zunahmen geformt werden, um den Halsausschnitt zu bilden. Die Schulterteile werden verbunden, um das Vorderteil zu bilden. Zunahmen auf dem Rückenteil und dem Vorderteil des Slipovers bilden die Armausschnitte, danach werden das Rückenteil und das Vorderteil zusammengefügt, um den Körper zu bilden. Zum Schluss werden Maschen entlang der Kante des Halsausschnitts und der Armausschnitte aufgenommen und die Bündchen mit verschränkten Maschen gearbeitet. Alle Bündchen werden mit italienischem Bind-Off beendet, um einen schönen Abschluss zu erhalten. Der Slipover kann mit oder ohne Schlitze am Saum gestrickt werden.
Größen:
Die Größen unterscheiden sich in der Länge, der Tiefe der Armausschnitte und der Breite des Körpers, die durch die Anzahl der Maschen im Armausschnitt bestimmt wird. Außerdem variieren sie in der Breite über den Schultern, wobei die Größen XS (S) M (L) ca. 36 cm und XL (2XL) 40,5 cm betragen. Die Größen XS (S) M (L) XL (2XL) entsprechen einem Brustumfang von ca. 80-85 (85-90) 90-95 (95-100) 100-110 (110-120) cm. Wir empfehlen einen Bewegungsspielraum von ca. 5-10 cm.
Beispiel: Wenn dein Brustumfang bzw. der Umfang an der breitesten Stelle 88 cm beträgt, empfehlen wir die Größe S, die eine Breite von 94 cm hat, was einen Spielraum von 6 cm bedeutet.
Maschenprobe:
Die Maschenprobe glatt rechts gestrickt sollte 10 x 10 cm = 18 Maschen x 24 Reihen betragen. Wir empfehlen auch eine Maschenprobe nach dem nebenstehenden Schema anzufertigen , wobei die Raute 3,5 cm breit und 5 cm hoch sein sollte.
Brustumfang:
89 (94) 98 (103) 112 (123) cm
Tiefe des Armlochs:
30 (30) 30 (30) 35 (35) cm
Länge:
50 (50) 52 (54) 55 (57) cm inkl. Bündchen (individualisierbar)
Empfohlene Nadeln:
Rundstricknadeln 4,5 mm und 3,5 mm Länge 80 cm (und 40 cm oder Magic Loop) und eine wie Zopfnadel oder DPN.
Garnvorschlag:
1 Faden Lima by Drops (50 g = 100 m) oder ein entsprechendes Garn zusammen mit 1 Faden Kid-Silk Mohair by Drops (25 g = 210m) oder einem entsprechenden Garn.
Garnverbrauch:
300 (350) 350 (400) 450 (500) g Lima und 75 (100) 100 (100) 125 (125) g Kid-Silk.
Hilfsmittel:
Nadel f. ital. Bind-Off, Maschenmarkierer, Garnreste/Maschenhalter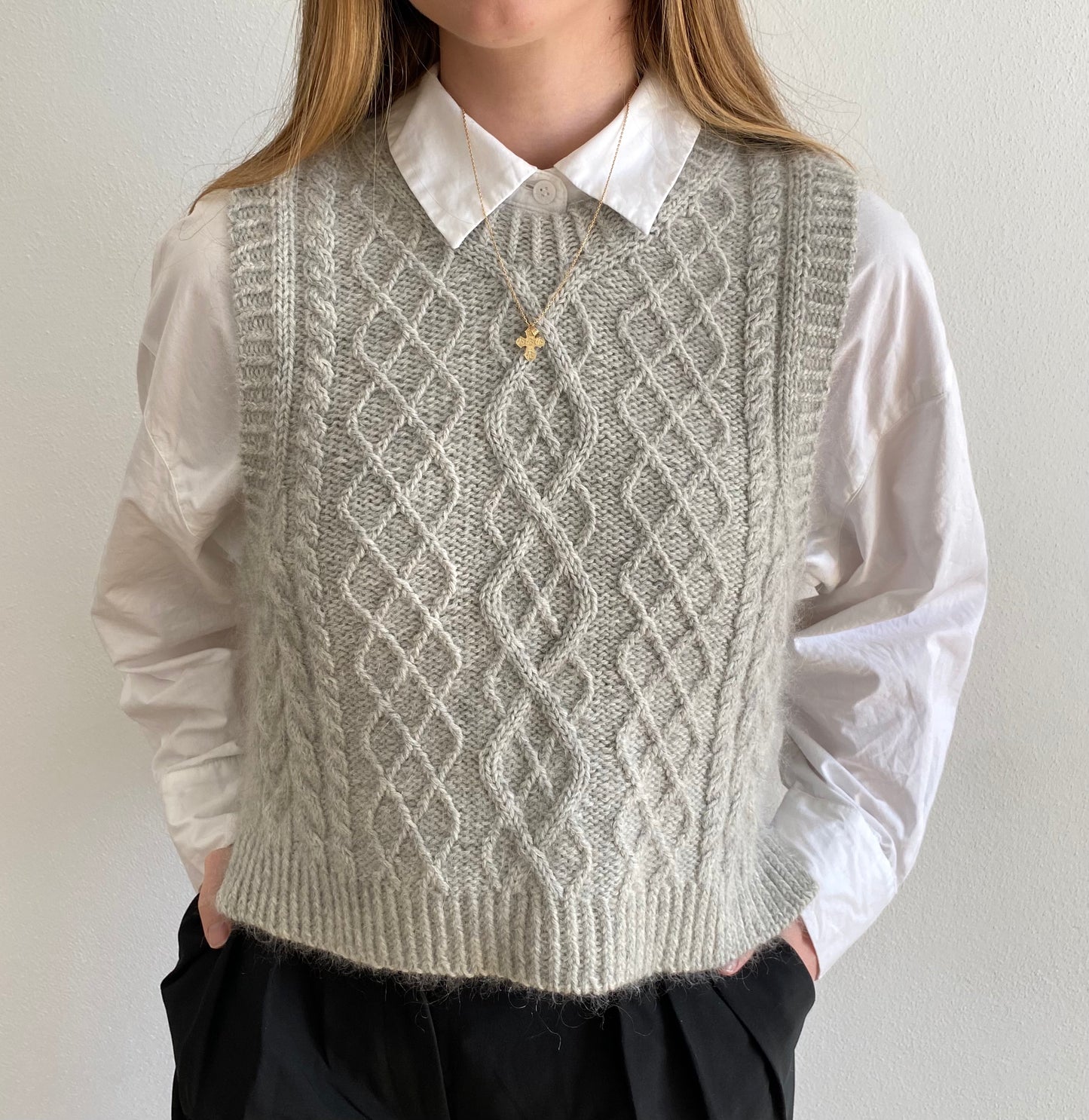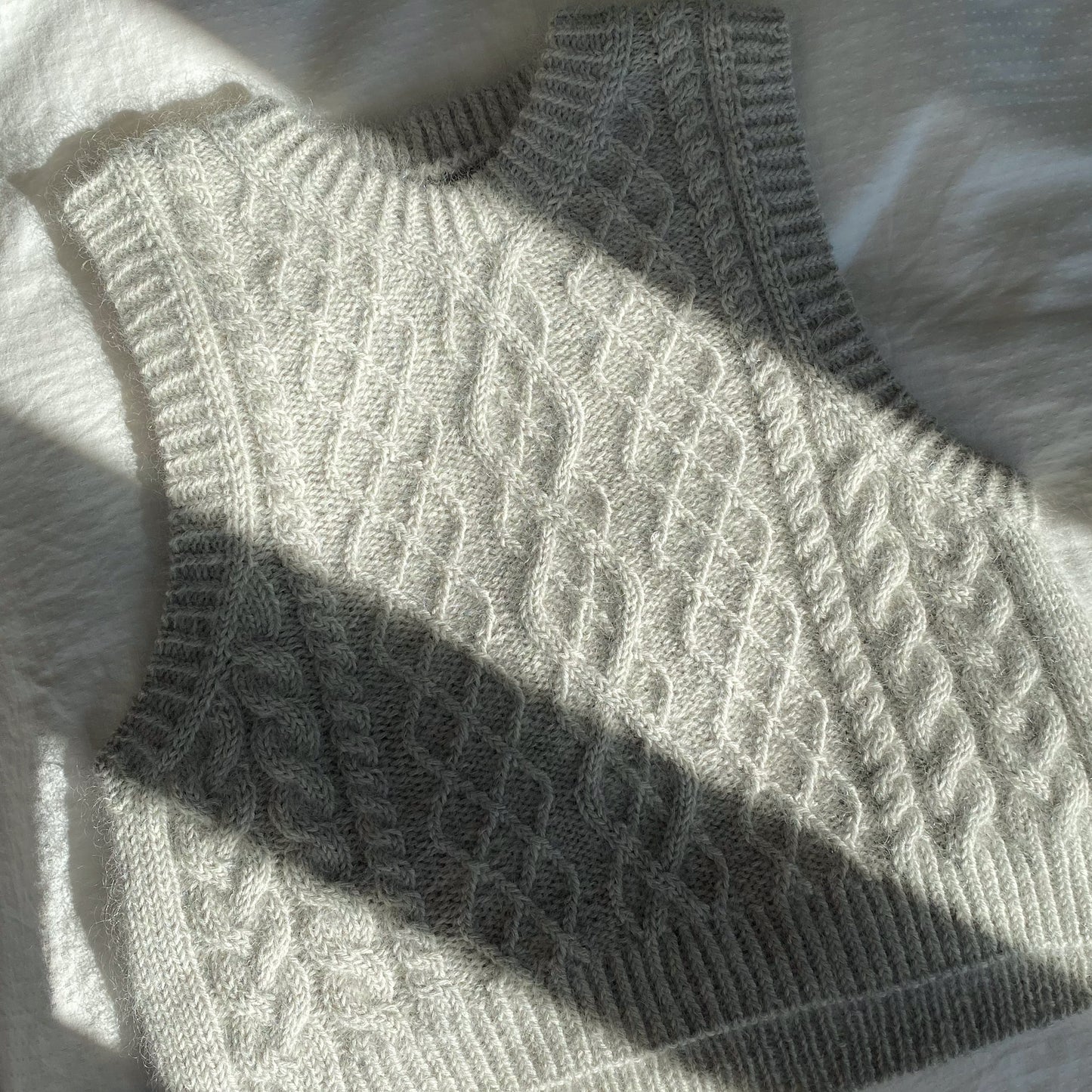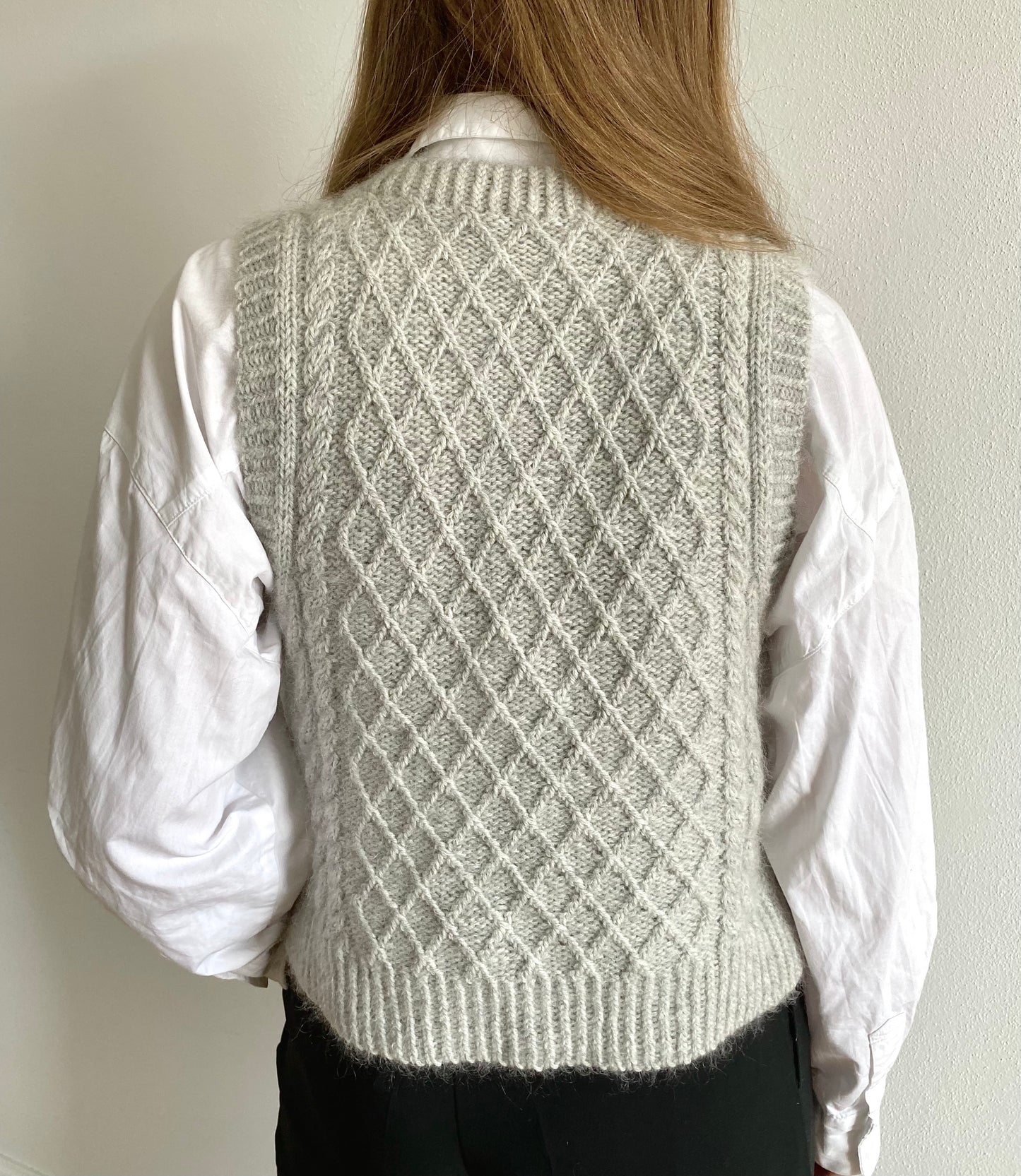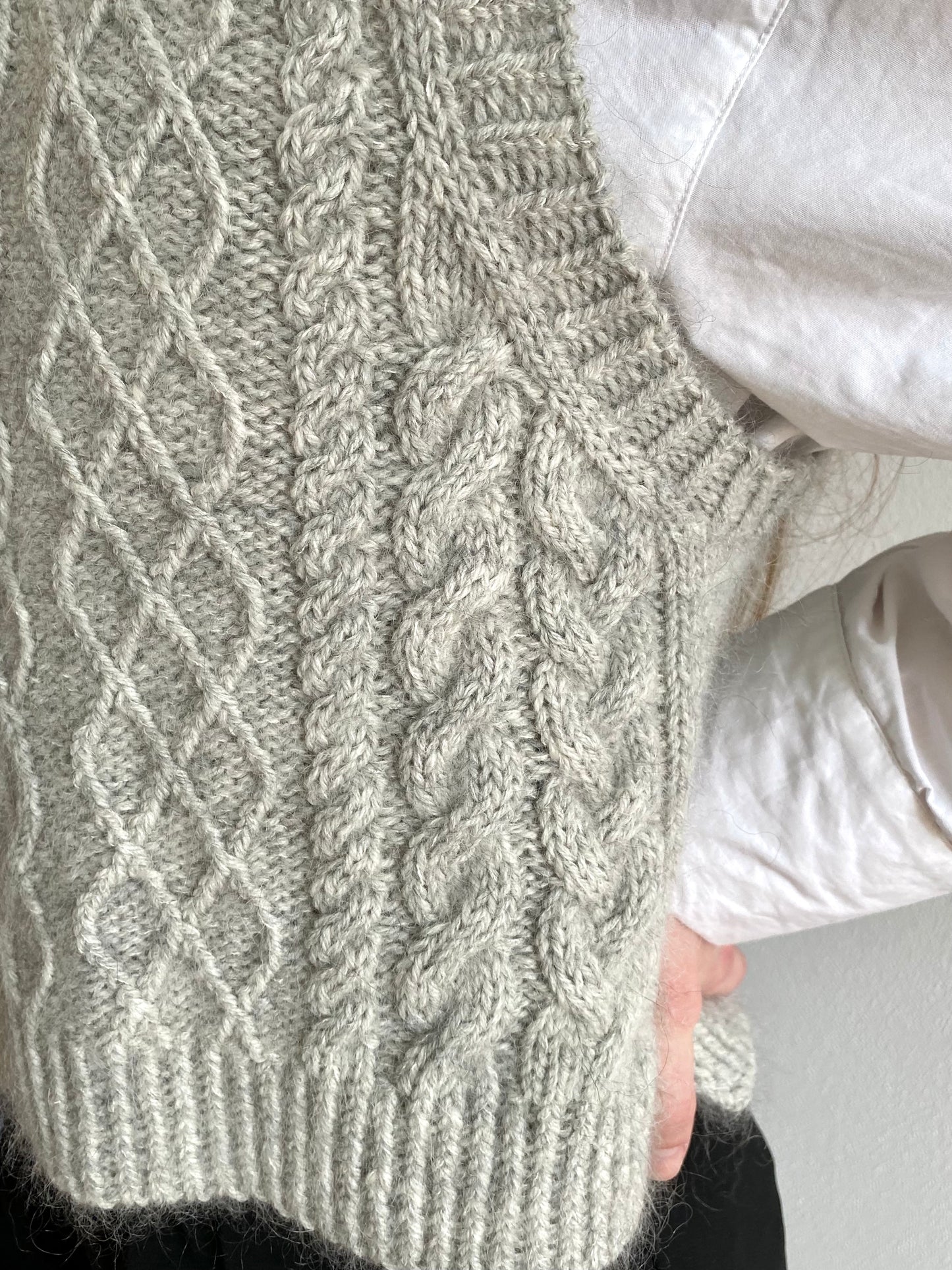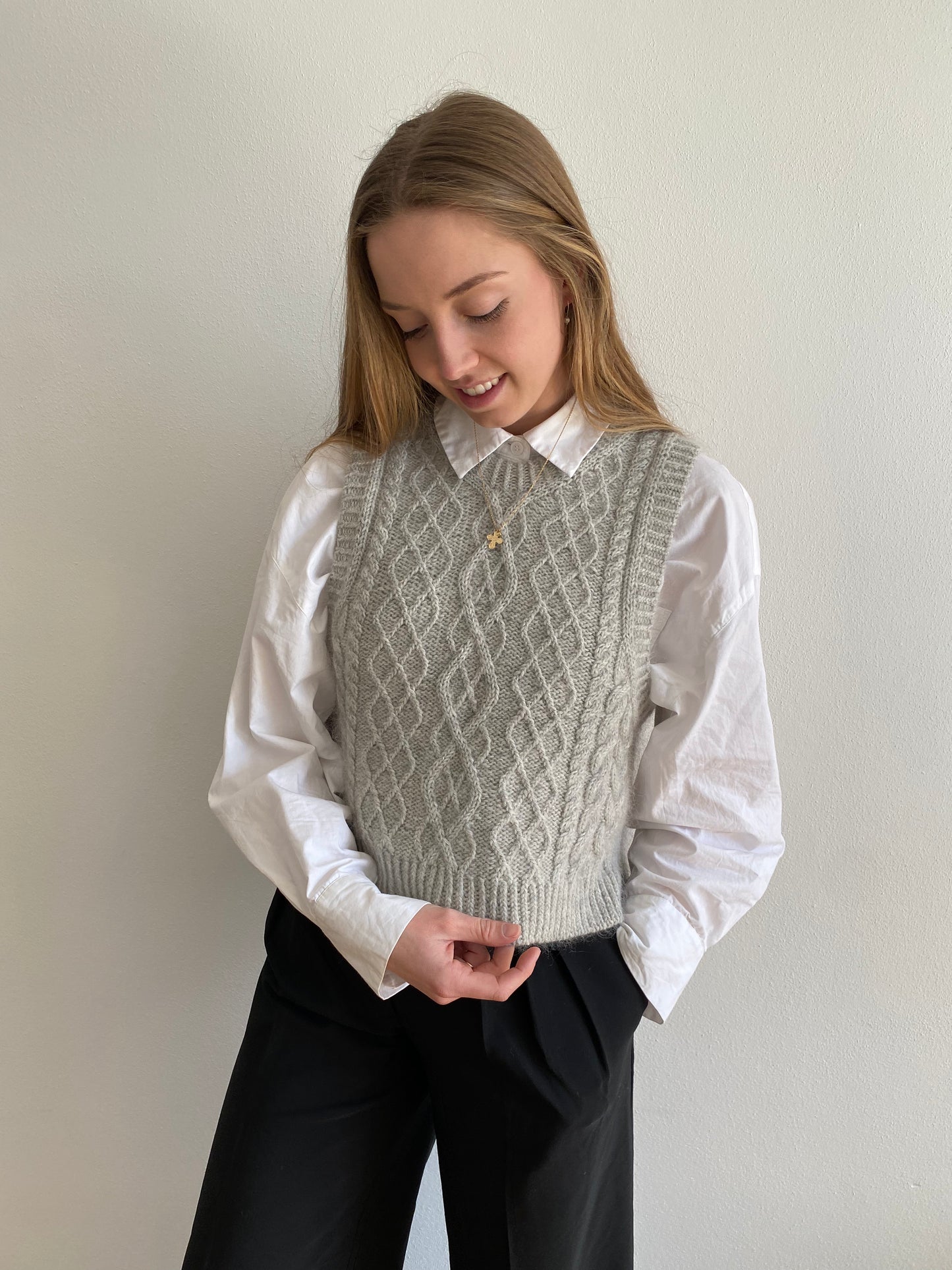 Delivery

After your purchase the patterns are immediately sent to your e-mail address as PDF-files.