Swirl Sweater Chunky - Dansk
Regular price
Sale price
$8.00 USD
Unit price
per
Sale
Sold out
Share
Størrelser:
Sweateren kan strikkes i syv forskellige størrelser: XS (S) M (L) XL (2XL) 3XL. Omkredsen af sweateren over brystet for hver størrelse er 95 (105) 110 (115) 120 (130) 140 cm. Disse mål bør inkluderer et positive easy på omkring 15 cm i forhold til dit brystmål.
Længden af sweateren i hver størrelse er 55 (57) 58 (62) 65 (67) 68 cm inkl. ribkant, hvilket kan tilpasses, idet der strikkes oppefra og ned.

Konstruktion:
Sweateren strikkes oppefra og ned, hvor rygstykket først strikkes og der herefter samles masker op til hhv. venstre og højre skulderstykke. Der strikkes vendepinde for at danne skulderhældningen og udtagninger for at danne halsudskæringen. De to skulderstykker samles til forstykket, der herefter samles med bagstykket for at danne kroppen. Kroppen forlænges i mønsterstrik og afsluttes med drejet rib og italiensk aflukning. Efter kroppens afslutning samles masker op til ærmer, der strikkes i dobbelt perlestrik og afslutningsvist samles masker op til halskanten der strikkes i drejet rib og foldes til en dobbelt halskant.
Struktur/mønster:
Sweateren strikkes med paneler på for- og bagsiden der har snoninger og strukturstrik, mens resten af sweateren, svarende til ærmer samt siderne af sweateren strikkes i dobbelt perlestrik. Mønsteret i struktur-panelerne er beskrevet gennem diagrammer hvor hver 1x1 firkant afbilder 1 maske. Opskriften indeholder både en guide til bagsiden med store og små ruder, som vist er på billederne.
Strikkefasthed:
Fastheden skal være 18 masker x 28 pinde på 10 x 10 cm dobbelt perlerib og en ruder skal måle 3,5 cm i bredden x 5 cm i højden når der strikkes efter diagrammet i opskriften.
Vejledende pinde:
4,5 mm rundpind med 80 og 40 cm wire og 3,5 mm rundpind med 80 og 40 cm wire.
Garnforslag:
Mayflower Easy Care Classic (50 g = 106 m) sammen med Mayflower Super Kid Silk (25 g = 195 m). Den på billederne viste sweater er strikket i Easy Care fv. 244 ørkensand sammen med Super Kid Silk fv. 98 nougat.
Garnmængde:
500 (550) 600 (600) 650 (700-750) 800 g Mayflower Easy Care classic
125-150 (125-150) 150 (150-175) 175 (200) 200 g Mayflower Super Kid Silk 
Garnalternativer:
1 tråd Mayflower Easy Care Classic Tweed (50 g = 106 m) + 1 tråd Mayflower Super Kid Silk (25 g = 195 m)
1 tråd Drops Lima (50 g = 100 m) + 1 tråd Drops Kid Silk (25 g = 210 m)
1 tråd Sandness Double Sunday (50 g = 108 m) + Sandness Tynn Silk Mohair (25 g = 212 m)
Andre materialer:
Strikkenål, restegarn, maskemarkører.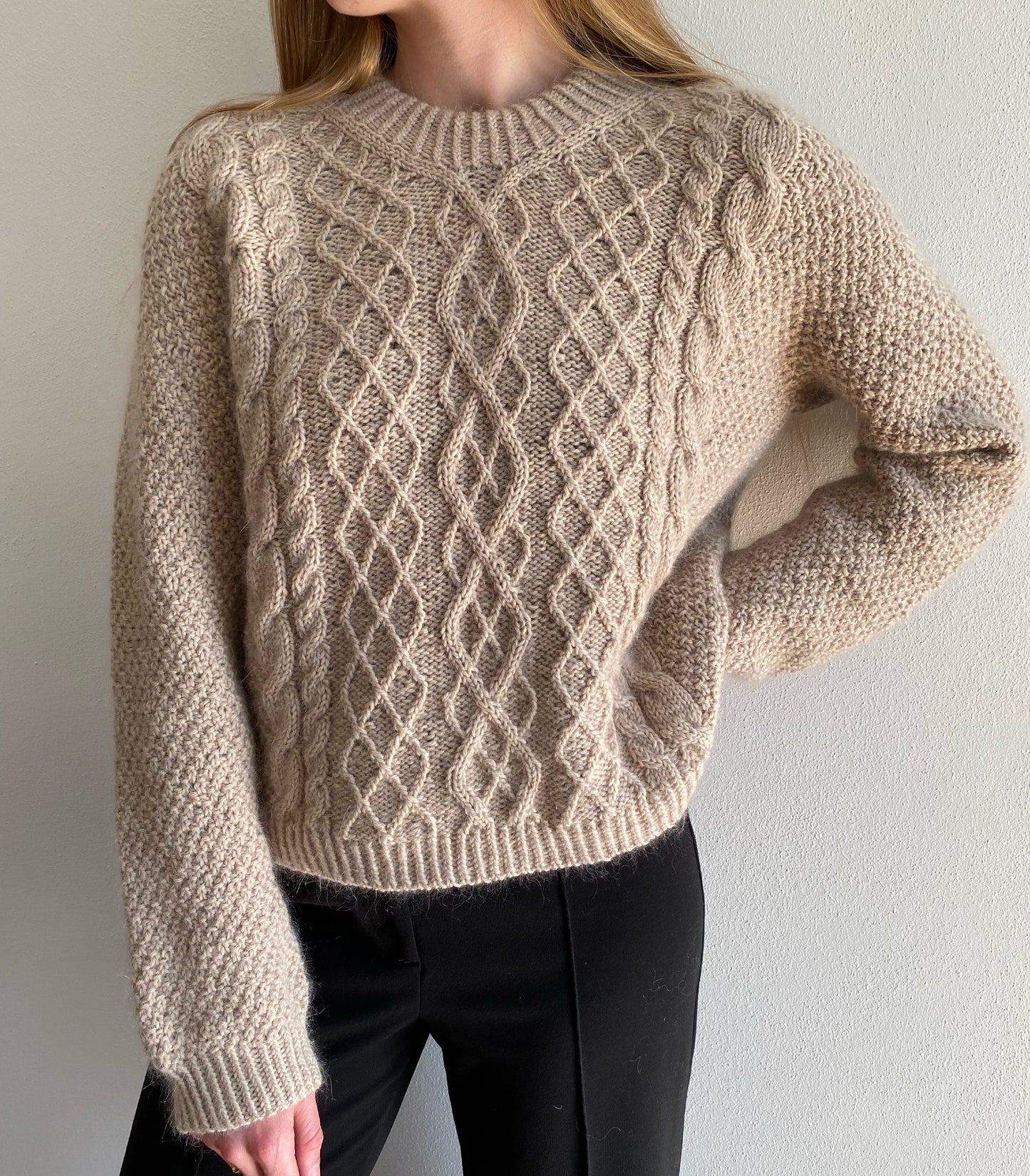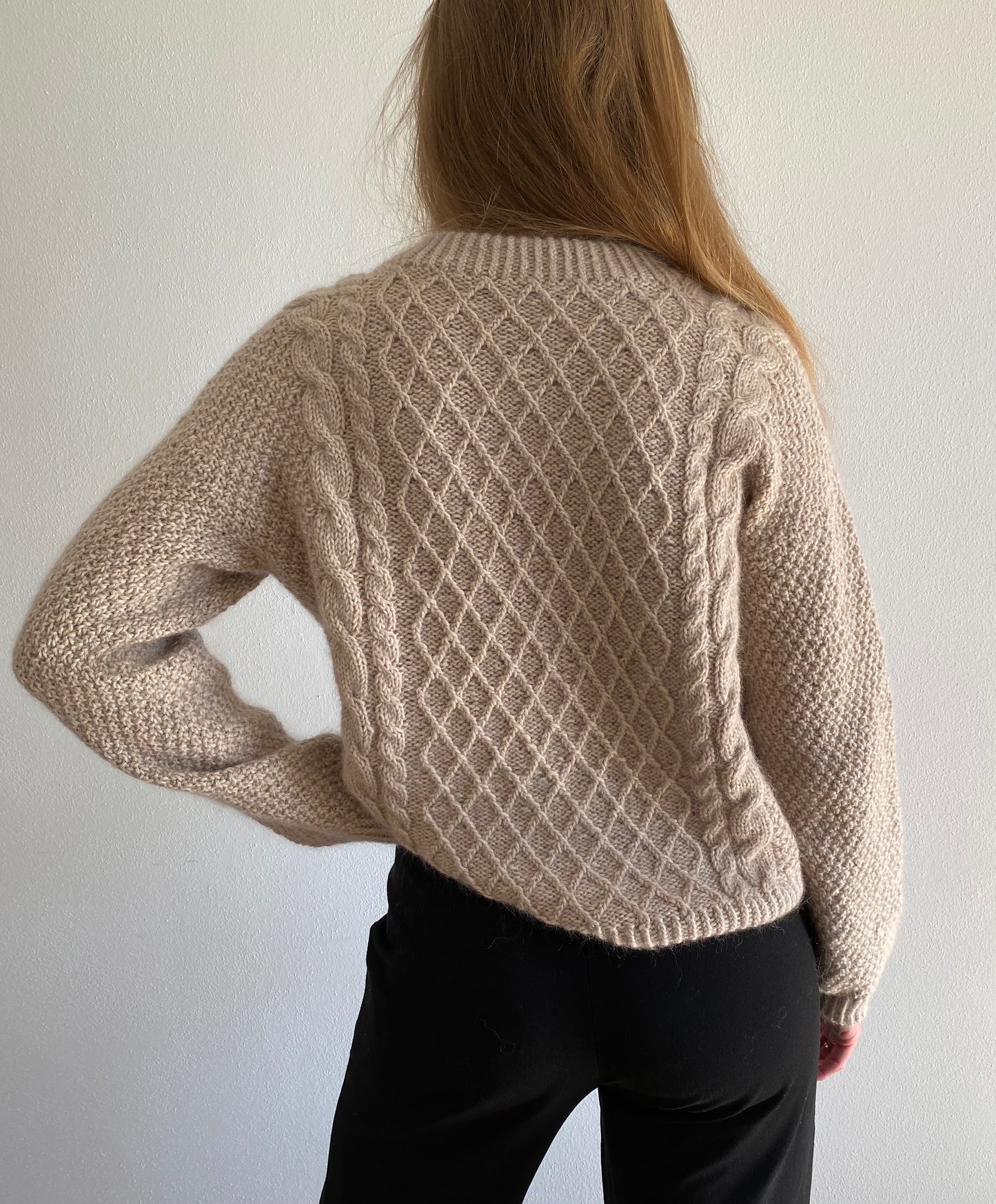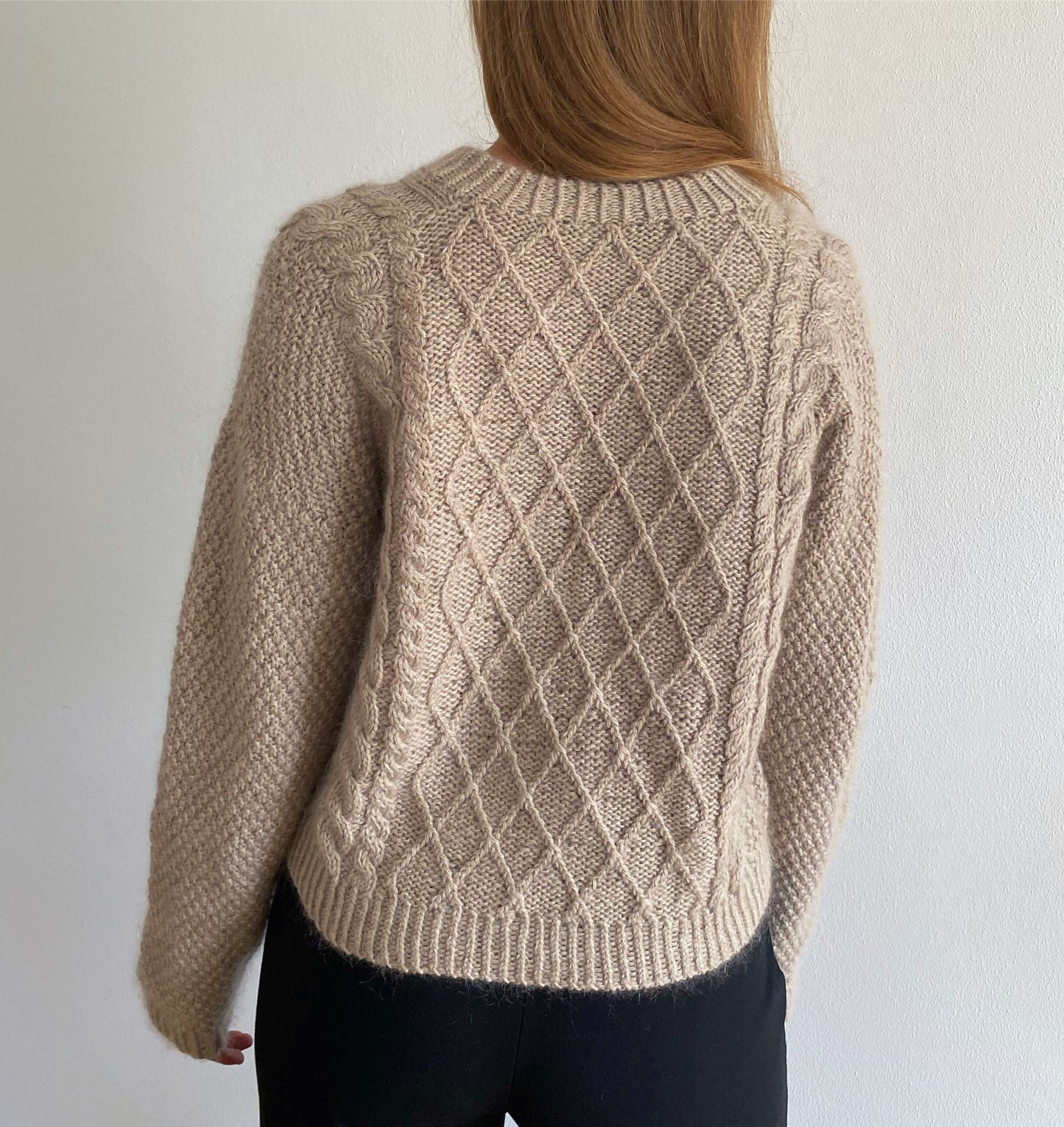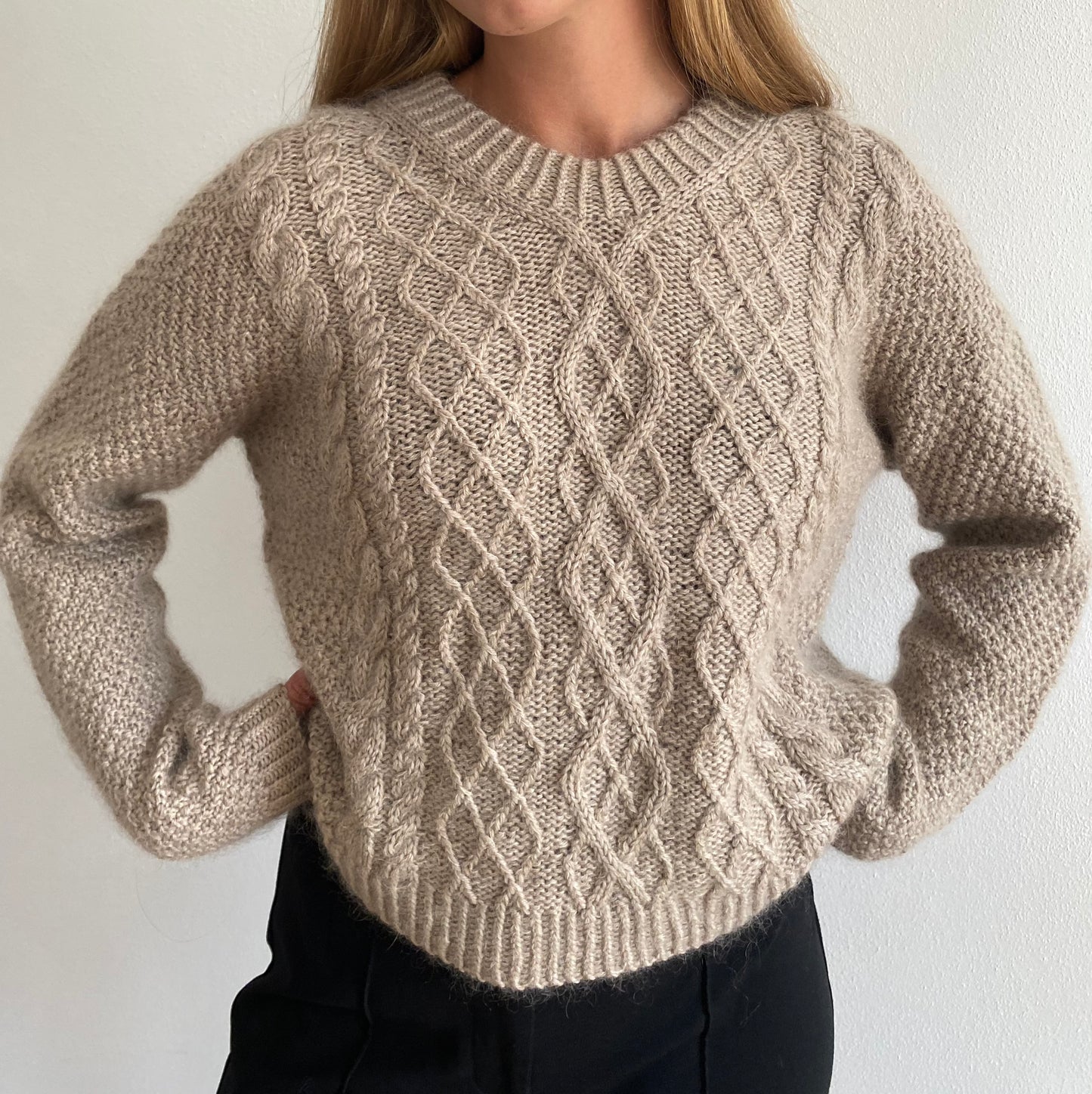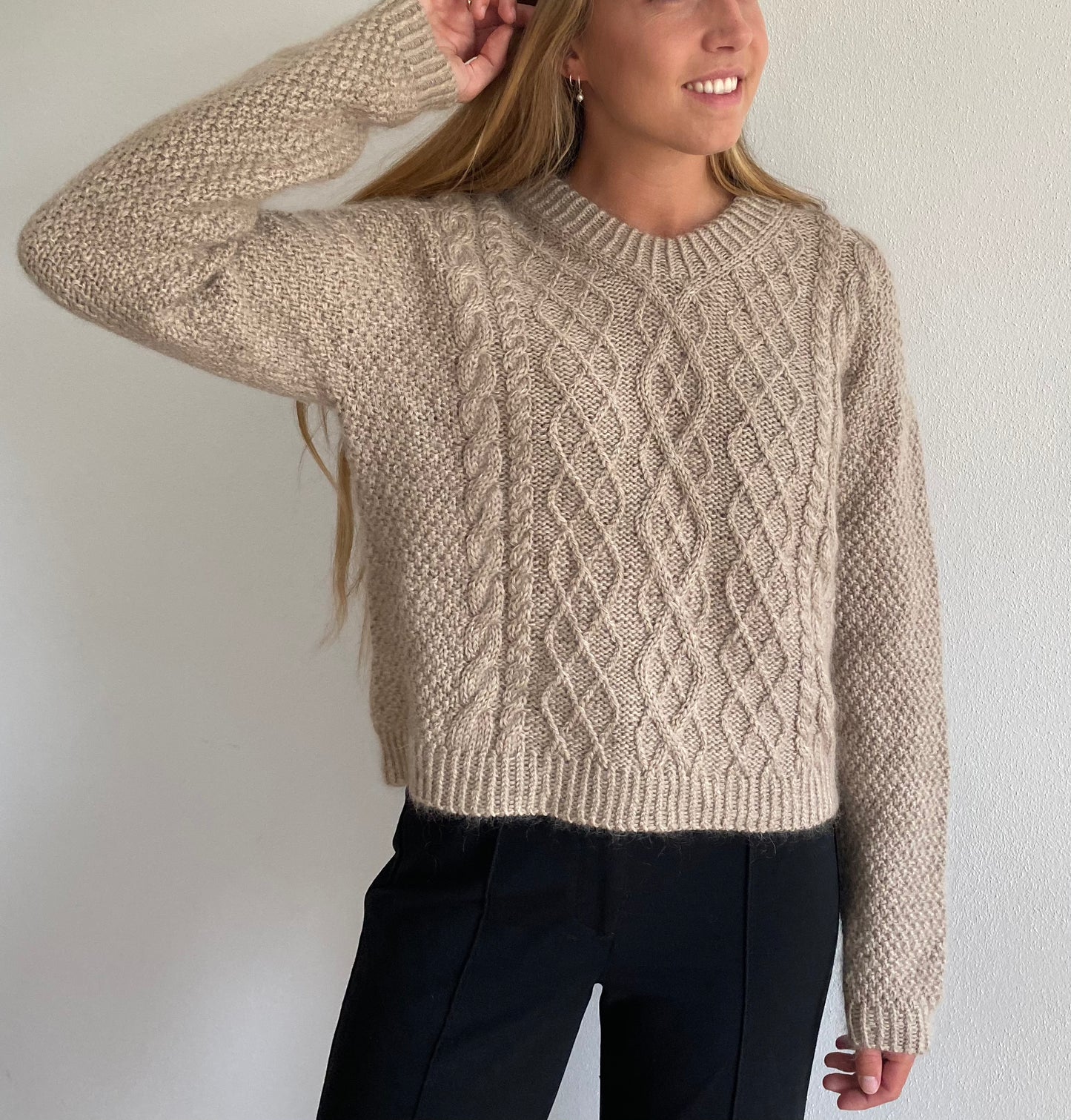 Delivery

After your purchase the patterns are immediately sent to your e-mail address as PDF-files.